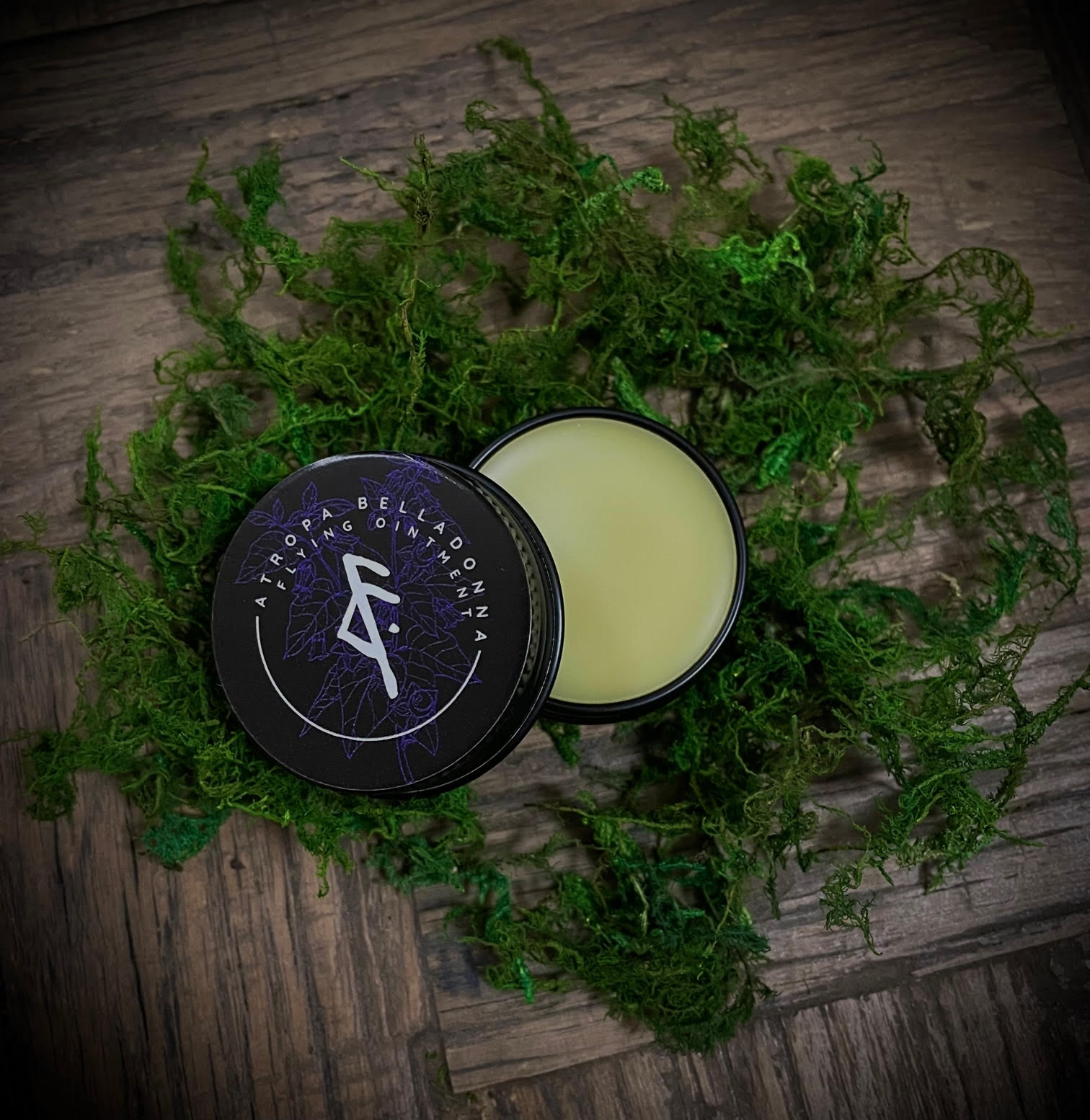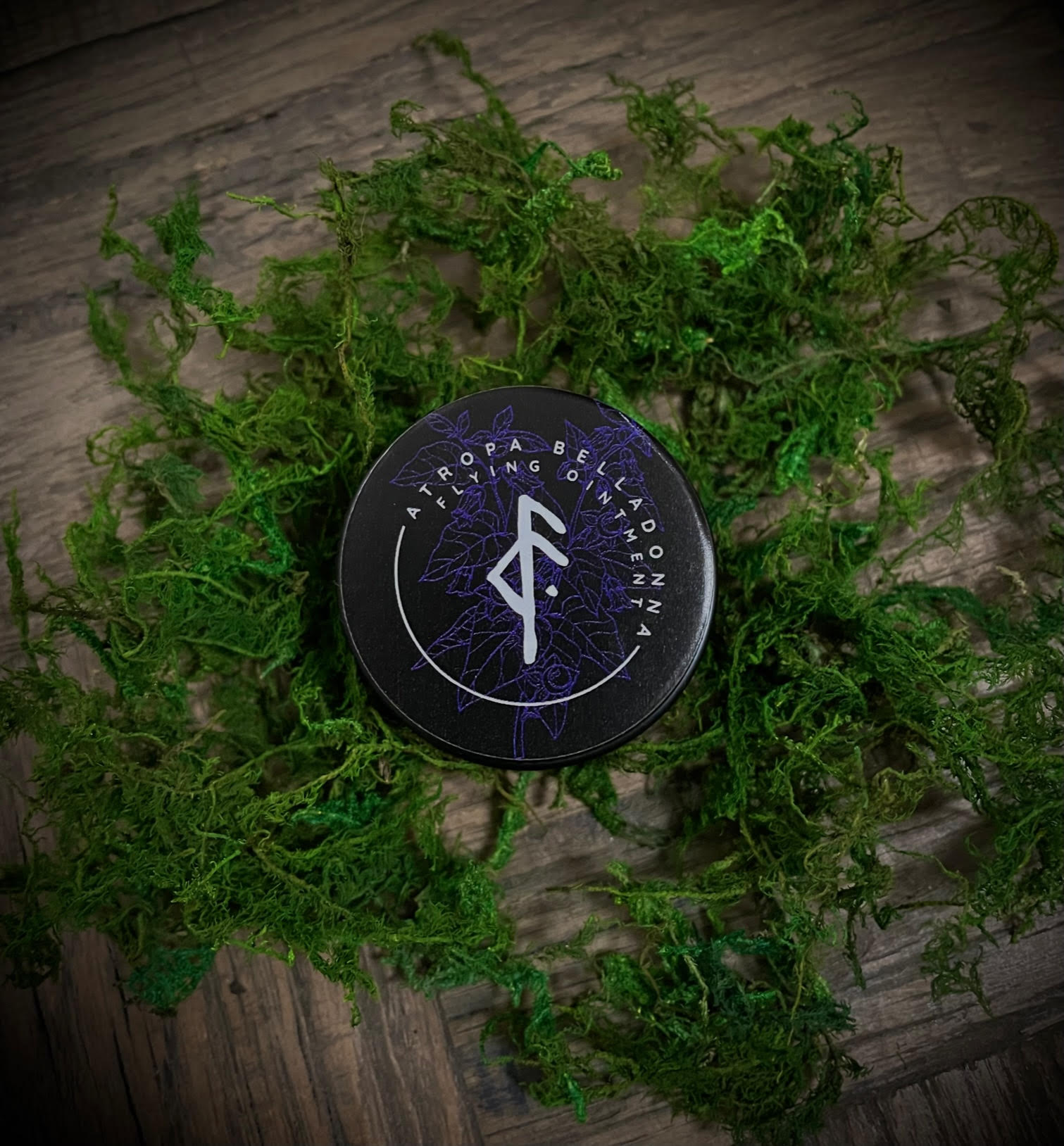 Flying Ointment- Atropa Belladonna
The spirit of Atropa belladonna is lustful, alluring and secretive. Saturnine in nature and a gateway for chthonic forces, Belladonna aids in workings with the underworld. She is known as a seductress, and many have used the magic of her glamours to entice a lover. She soothes nerves, eases pain and gifts sleep by the same breath in which she would stop a heart or haunt those very same dreams.
Size: 15gram tin. 
Ingredients: Atropa belladonna, Grapeseed Oil, Beeswax
Possible Side Effects:
May cause drowsiness, dilated pupils, blurry vision, sensitivity to light, dry mouth, difficulty swallowing and increased thirst, increased heartbeat leading into heart palpitations, loss of coordination, dry fever, dizziness, restlessness and hallucinations increasing into delirium.
Keep ointments away from mucous membranes (eyes, nose, mouth and genitals), open cuts and wounds.
Wash hands after use and discontinue use if a rash occurs.
Do not use it while driving or operating machinery.
Effects can last for 6-8 hours.
Toxic if ingested.

Do not use on mucous membranes.

Keep away from kids and pets.

Do not use if pregnant or breastfeeding.

Do not use it if you are elderly with a compromised immune system.

Do not use it if you have a Solanaceae/ Nightshade or salicylate allergy.

Do not use it if you have heart, liver, or kidney issues.

Do not use it if you have glaucoma or are on medication for it.

Do not use it if you are already taking anticholinergic medication.

Do not use it if you are taking MAOIs.

Do not use the week before or after surgery to avoid overdosing on anticholinergics.

Safe to use with alcohol, but be aware liquor will increase the nightshades' effects of drowsiness.

If you are unsure if any of the above applies to you please contact your doctor for clarity.
By purchasing this item you are confirming you are of legal age in your country, that the product is purchased for research purposes only and will not be used in an unsafe manner. This product is sold as a curio item only and all information provided is purely for educational, historic and entertainment purposes. Upon purchase, the purchaser is liable for any damage, illness or harm that may come to themselves, others or property. It is the purchaser's responsibility to ensure items are legal and allowable through customs into their country. 
Flying Ointment- Atropa Belladonna
Shipping
Fast shipping
To align with our stance on sustainability, all orders are processed and shipped Tuesdays, Thursdays & Fridays in bio-degradable and environmentally sustainable packaging. We also ship with a 100% carbon neutral courier.    
Order tracking
All orders are shipped with tracking details so you can keep track of your orders progress. You will find your orders tracking information in your account settings.
Get in touch
To get in touch with the Elfhame Witches please visit our Contact page, alternatively you can email us at admin@elfhame.com.au
Refunds & Exchanges
Refunds & Exchanges
Due to the nature of our products, refunds or exchanges are only accepted if an item is damaged. A refund or exchange will only be processed if we are notified within 7 days of receiving the item and when we have received the returned damaged item. Refunds will not be issued for lost orders by mail or couriers.
Terms & Conditions
Terms & Conditions
This website is operated by Elfhame. By visiting our store, visiting our site and purchasing our products you agree to the following terms and conditions.
We serve the right to refuse and or refund orders at our discretion. You agree to not reproduce, re-sell or exploit any portion of our business (including our products and services).We reserve the right to change the price of our products and services at any time. In no case will Elfhame be liable for the misuse of our products that result in injury or damage.
All items, curio or services sold by Elfhame is sold as a curio only and is not guaranteed effectiveness.