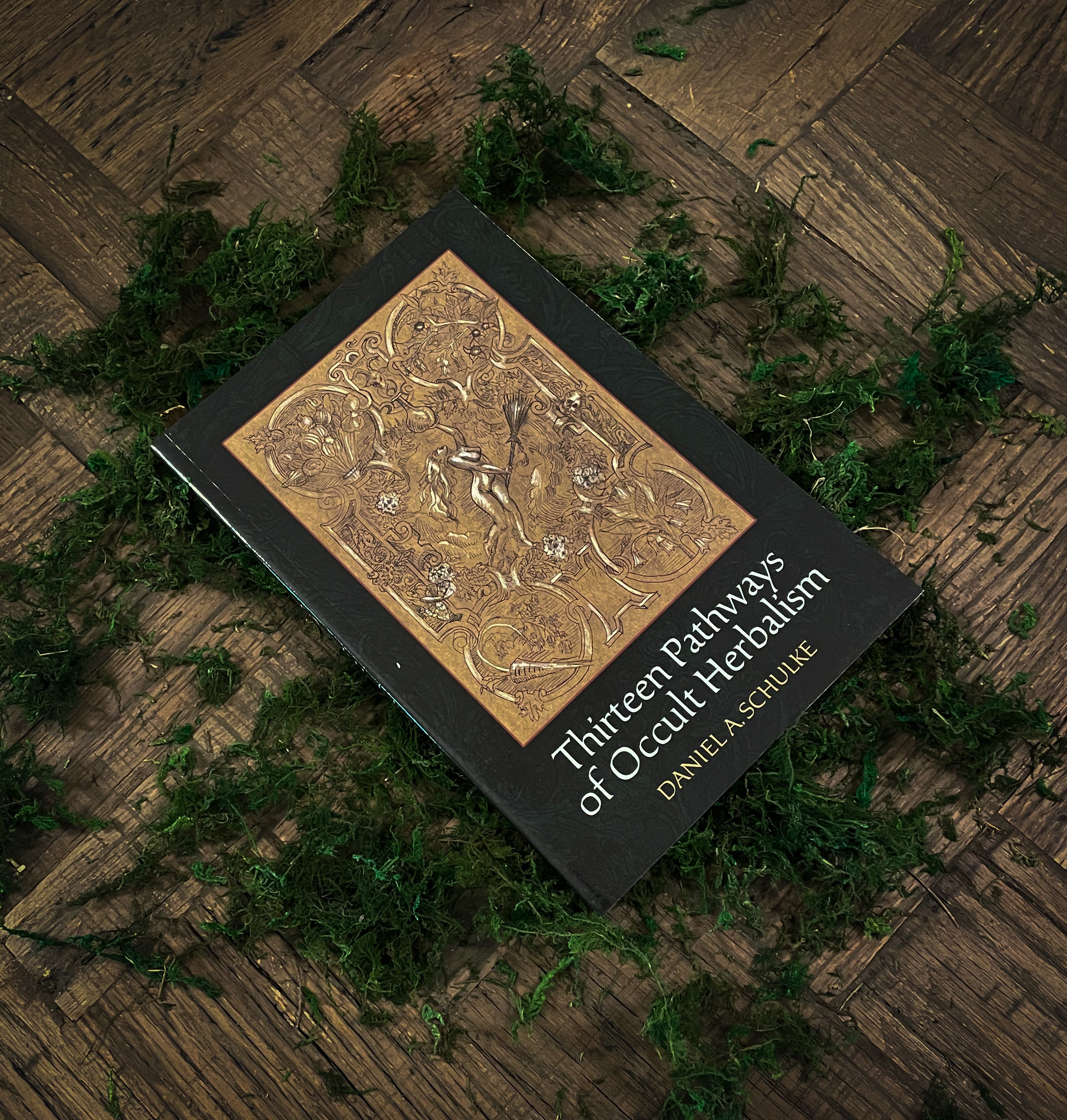 Thirteen Pathways of Occult Herbalism
Author: Daniel Schulke


Daniel A. Schulke's forthcoming work The Green Mysteries (Arcana Viridia), is an occult herbal 25 years in the making. Meticulously illustrated with over 250 original images by renowned artist Benjamin Vierling, its primary rubric is that of an original occult pharmacopeia written from the perspective of a contemporary magical herbalist. As a whole the book emerges principally from the discipline of Occult Herbalism, which encompasses the knowledge and use of the magical, spiritual, and folkloric dimensions of plants.
As a foundational treatise introducing this work, Thirteen Pathways of Occult Herbalism speaks to its interior philosophical concerns. Circumscribing the metaparadigm of herbal magical practice, providing useful examples of its manifestation, as well as demonstrating its time-honored routes of inquiry, it examines the ways in which knoweldge of this type is acquired and put into practice. This perennial wisdom animates many global spiritual traditions, especially those that have maintained their integrity of transmission even in the face of industrial development and cultural destruction.
Often concealed within the deepest strata of the Western Esoteric Traditions, this green strand of wisdom, though obscured, is a potent legacy of all magic, sorcery, and occult science.  In addition to the hard sciences of botany, ethnology, agriculture and ethnopharmacology, a number of pathways can assist the magical herbalist in furthering the depth of understanding and integrity of personal approach.
Thirteen Pathways of Occult Herbalism
Shipping
Fast shipping
To align with our stance on sustainability, all orders are processed and shipped Tuesdays, Thursdays & Fridays in bio-degradable and environmentally sustainable packaging. We also ship with a 100% carbon neutral courier.    
Order tracking
All orders are shipped with tracking details so you can keep track of your orders progress. You will find your orders tracking information in your account settings.
Get in touch
To get in touch with the Elfhame Witches please visit our Contact page, alternatively you can email us at admin@elfhame.com.au
Refunds & Exchanges
Refunds & Exchanges
Due to the nature of our products, refunds or exchanges are only accepted if an item is damaged. A refund or exchange will only be processed if we are notified within 7 days of receiving the item and when we have received the returned damaged item. Refunds will not be issued for lost orders by mail or couriers.
Terms & Conditions
Terms & Conditions
This website is operated by Elfhame. By visiting our store, visiting our site and purchasing our products you agree to the following terms and conditions.
We serve the right to refuse and or refund orders at our discretion. You agree to not reproduce, re-sell or exploit any portion of our business (including our products and services).We reserve the right to change the price of our products and services at any time. In no case will Elfhame be liable for the misuse of our products that result in injury or damage.
All items, curio or services sold by Elfhame is sold as a curio only and is not guaranteed effectiveness.