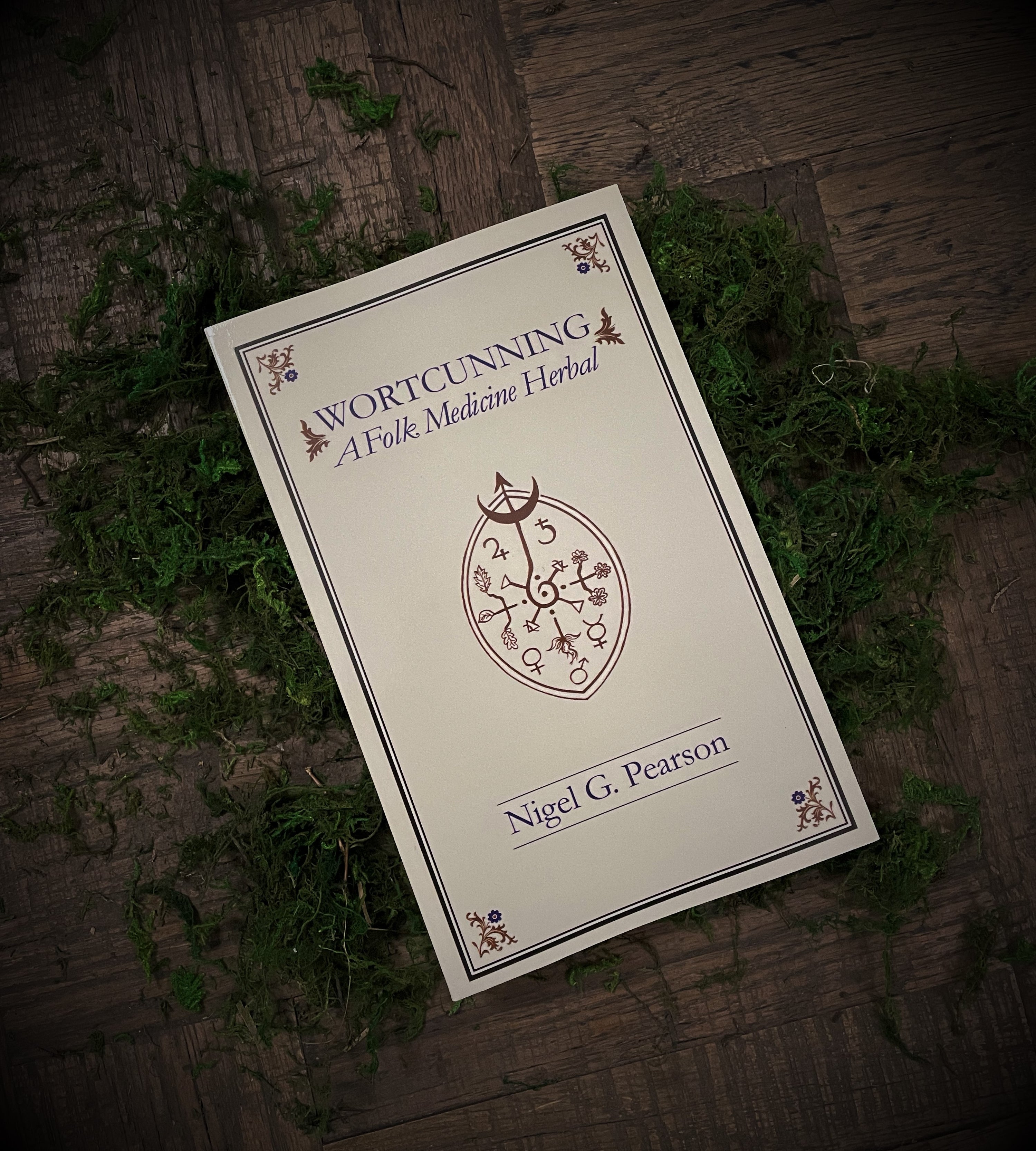 Author: Nigel G. Pearson
We are pleased to announce WortCunning – A Folk Medicine Herbal & A Folk Magic Herbal by Nigel G. Pearson.
This useful, pocket-sized book is presented as two books in one; in an intriguing 'double-fronted' format. The first side, A Folk Medicine Herbal, presents the medicinal herbal information and recipes as passed on to the author. He has complimented this material with the addition of the second, 'reverse' side of the book, A Folk Magic Herbal, giving the traditional magical uses for the same plants presented in the first.
Nigel explains the book's back ground:
'In the early 1980s, I was working with a small coven in a town on the coast of Suffolk, when one of the members mentioned that she was in touch with a family group of witches who were offering her some of their family recipes on herbal medicine. Would I be interested in seeing them and taking a copy too? Yes, I would be very interested, and so, some time later I was presented with the information that they had sent; a set of old-fashioned card-index cards, complete within their box.
I dutifully copied them all down into one of my work books and there they stayed, almost unused, for the next 35-odd years. I was never asked to keep this material secret nor, as far as I am aware, was it ever intended to be so. Therefore, I have decided to publish this material in its entirety, for two reasons. Firstly, in my work as a herbalist I am often asked if I know of a genuine, folk or traditional herbal that could be used as a working manual. Secondly, purely in the interests of preserving and disseminating this information to a wider audience of those who would find it interesting.
In the second/reverse book I have taken the exact same plants that are given in the first/reverse section of this work and have given their traditional, magical usages. This information was not included in the original notes I received from the family of witches, so I have no way of knowing how they utilised herbs for their magical practice, or indeed if they even did. However, I feel that this information should be included in a book of this type and have therefore endeavoured to fill this omission with the traditional folk-magical uses of the herbs previously described medicinally.'
Shipping
Fast shipping
To align with our stance on sustainability, all orders are processed and shipped Tuesdays, Thursdays & Fridays in bio-degradable and environmentally sustainable packaging. We also ship with a 100% carbon neutral courier.    
Order tracking
All orders are shipped with tracking details so you can keep track of your orders progress. You will find your orders tracking information in your account settings.
Get in touch
To get in touch with the Elfhame Witches please visit our Contact page, alternatively you can email us at admin@elfhame.com.au
Refunds & Exchanges
Refunds & Exchanges
Due to the nature of our products, refunds or exchanges are only accepted if an item is damaged. A refund or exchange will only be processed if we are notified within 7 days of receiving the item and when we have received the returned damaged item. Refunds will not be issued for lost orders by mail or couriers.
Terms & Conditions
Terms & Conditions
This website is operated by Elfhame. By visiting our store, visiting our site and purchasing our products you agree to the following terms and conditions.
We serve the right to refuse and or refund orders at our discretion. You agree to not reproduce, re-sell or exploit any portion of our business (including our products and services).We reserve the right to change the price of our products and services at any time. In no case will Elfhame be liable for the misuse of our products that result in injury or damage.
All items, curio or services sold by Elfhame is sold as a curio only and is not guaranteed effectiveness.