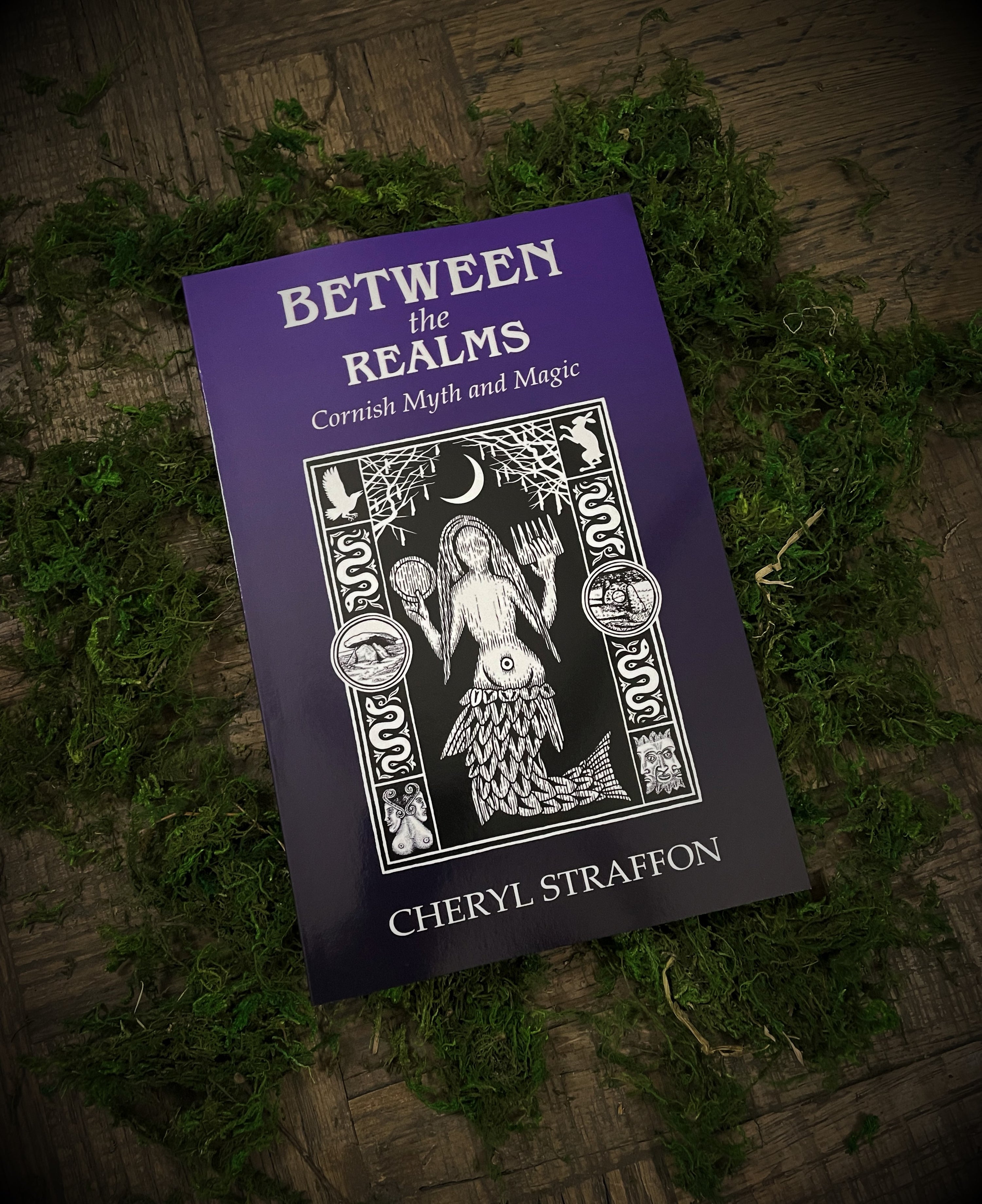 Between the Realms, Cornish Myth and Magic
Author: Cheryl Straffon
In this exploration of the Cornish Celtic Otherworld, Cheryl Straffon expertly guides us through a realm of traditional tales, stories, myths, legends and folklore wherein we encounter supernatural beings, such as fairies, piskeys, mermaids, witches, giants and other strange creatures.
Between the Realms examines the writings of the folklorist collectors, and oral traditions born from the prehistoric sacred landscape of Cornwall.
Cheryl explains how, in this material, we find themes and narratives strikingly similar to those encountered within much earlier works that refer to beliefs and events that were current in the ancient past. In turn we find that Celtic sagas and mythic tales seem to exhibit the same way of interfacing with the world of magic and spirit as seen in the beliefs and practices of many native indigenous peoples from around the world.
As Cheryl tells us in her introduction to this book, 'It is a realm that has some similarities to our own, but one that is also strangely unfamiliar. It is a dangerous world to enter, but nevertheless one that can give new insights and experiences that change our world view when we return to our mundane world.'
Between the Realms, Cornish Myth and Magic
Shipping
Fast shipping
To align with our stance on sustainability, all orders are processed and shipped Tuesdays, Thursdays & Fridays in bio-degradable and environmentally sustainable packaging. We also ship with a 100% carbon neutral courier.    
Order tracking
All orders are shipped with tracking details so you can keep track of your orders progress. You will find your orders tracking information in your account settings.
Get in touch
To get in touch with the Elfhame Witches please visit our Contact page, alternatively you can email us at admin@elfhame.com.au
Refunds & Exchanges
Refunds & Exchanges
Due to the nature of our products, refunds or exchanges are only accepted if an item is damaged. A refund or exchange will only be processed if we are notified within 7 days of receiving the item and when we have received the returned damaged item. Refunds will not be issued for lost orders by mail or couriers.
Terms & Conditions
Terms & Conditions
This website is operated by Elfhame. By visiting our store, visiting our site and purchasing our products you agree to the following terms and conditions.
We serve the right to refuse and or refund orders at our discretion. You agree to not reproduce, re-sell or exploit any portion of our business (including our products and services).We reserve the right to change the price of our products and services at any time. In no case will Elfhame be liable for the misuse of our products that result in injury or damage.
All items, curio or services sold by Elfhame is sold as a curio only and is not guaranteed effectiveness.