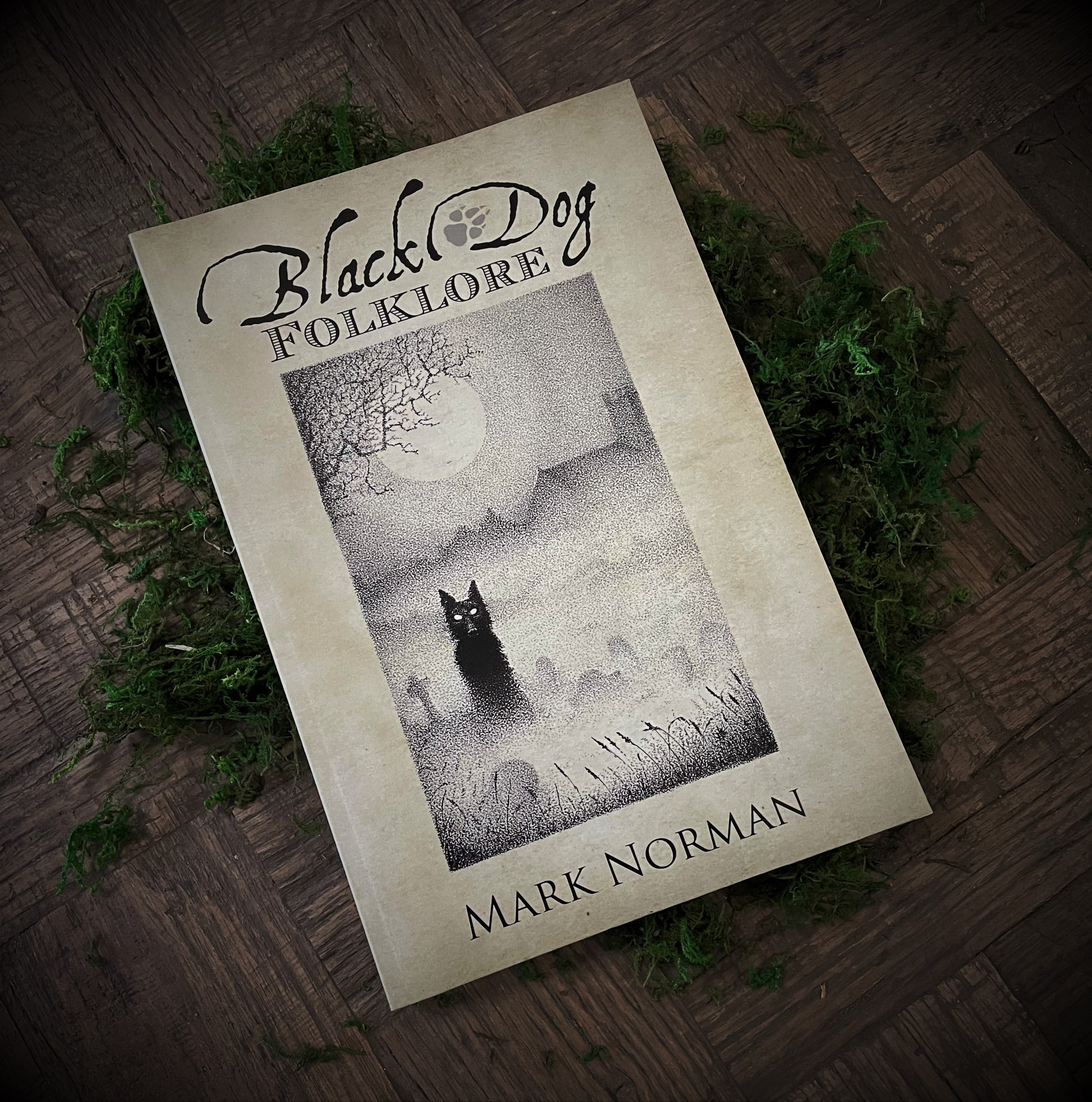 Author: Mark Norman
A comprehensive study of the image of the Black Dog in folklore, with an extensive gazetteer of over 700 UK sightings and traditions.
The study of folklore is very often the examination of symbolism and symbolic interpretation changes over time. Many ghosts appear or behave in a way that seems less naturalistic than symbolic and this is certainly true of the image of the Black Dog.
It is telling that apparitions of ghostly Black Dogs have been sighted, felt, heard and experienced in an unnatural way by people for nearly a millennium now and yet people stumble across information about them by chance when attempting to provide themselves with an explanation for what has occurred. Many people's knowledge of the subject stretches no further than The Hound of the Baskervilles and where they are more familiar, people often think that the Black Dog is evil or portentous in the manner of the Shuck.
Black Dog Folklore aims to redress this balance. It is the first full-length study of the phenomenon by a single author, containing a gazetteer of over 750 key UK eyewitness accounts and traditions drawn from the author's archive.
Mark Norman is a folklore author and researcher based in Devon, in the South-West of the UK. He is a committee member of the Folklore Society and has been researching and collecting information on Black Dog apparitions for many years. He holds what is believed to be the UK's largest archive of these sightings and traditions, which includes fieldwork and notes from other respected collectors such as Theo Brown and the recently donated archive of Janet Bord.
Shipping
Fast shipping
To align with our stance on sustainability, all orders are processed and shipped Tuesdays, Thursdays & Fridays in bio-degradable and environmentally sustainable packaging. We also ship with a 100% carbon neutral courier.    
Order tracking
All orders are shipped with tracking details so you can keep track of your orders progress. You will find your orders tracking information in your account settings.
Get in touch
To get in touch with the Elfhame Witches please visit our Contact page, alternatively you can email us at admin@elfhame.com.au
Refunds & Exchanges
Refunds & Exchanges
Due to the nature of our products, refunds or exchanges are only accepted if an item is damaged. A refund or exchange will only be processed if we are notified within 7 days of receiving the item and when we have received the returned damaged item. Refunds will not be issued for lost orders by mail or couriers.
Terms & Conditions
Terms & Conditions
This website is operated by Elfhame. By visiting our store, visiting our site and purchasing our products you agree to the following terms and conditions.
We serve the right to refuse and or refund orders at our discretion. You agree to not reproduce, re-sell or exploit any portion of our business (including our products and services).We reserve the right to change the price of our products and services at any time. In no case will Elfhame be liable for the misuse of our products that result in injury or damage.
All items, curio or services sold by Elfhame is sold as a curio only and is not guaranteed effectiveness.