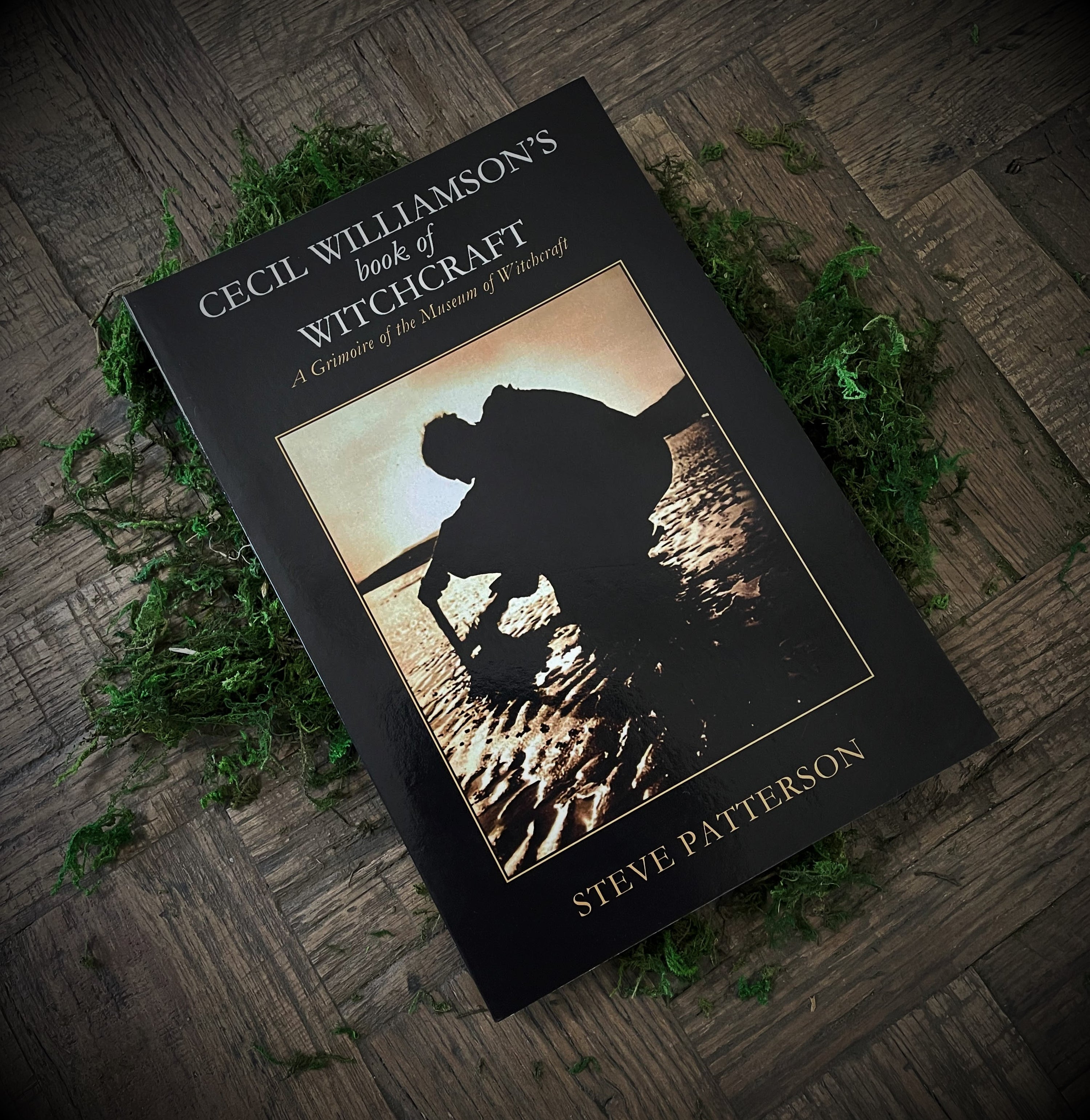 Cecil Williamson's Book of Witchcraft
Author: Steven Patterson
"Cecil Hugh Williamson (1909-1999) is, I believe, one of the great unsung heroes of the twilight world of folklore and witchcraft. He is probably best known for founding the Museum of Witchcraft and Magic in Boscastle, North Cornwall, which he ran up until midnight on All Hallows Eve 1996; three years before his passing over in to the spirit world. Unbeknown to many however, this was just part of a colourful and magical career that spanned most of the 20th century. This included working in a Rhodesian tobacco plantation, the pre-war film industry, the British secret services and, most importantly, devoting his life to the study of traditional witchcraft".
Steve Patterson
In 1996, whilst helping the then new owner Graham King in refurbishments to the Museum of Witchcraft and Magic, Steve happened upon a handwritten manuscript entitled simply 'Witchcraft' and containing an intriguing pot-pourri of esoterica from the hand of the Museum's founder; Cecil Williamson.
It is this manuscript which provides the basis for Steve's book which includes a full annotated transcript of the 'Witchcraft' manuscript, a history of Cecil Williamson and the Museum of Witchcraft and Magic, a treatise on Cecil Williamson's vision of traditional Witchcraft – the practices and the philosophy of the wayside witches, an account of his meetings with Aleister Crowley and Gerald Gardner, and a controversial account of his witnessing of the birth of 'Wicca'. The book is both a valuable reliquary of practices for the traditional witch, and a resource for folklorists and historians alike; telling the tale of a hitherto largely ignored, but hugely influential episode in modern occult history, and one of the great unsung heroes of the twilight world of folklore and witchcraft.
Cecil Williamson's Book of Witchcraft
Shipping
Fast shipping
To align with our stance on sustainability, all orders are processed and shipped Tuesdays, Thursdays & Fridays in bio-degradable and environmentally sustainable packaging. We also ship with a 100% carbon neutral courier.    
Order tracking
All orders are shipped with tracking details so you can keep track of your orders progress. You will find your orders tracking information in your account settings.
Get in touch
To get in touch with the Elfhame Witches please visit our Contact page, alternatively you can email us at admin@elfhame.com.au
Refunds & Exchanges
Refunds & Exchanges
Due to the nature of our products, refunds or exchanges are only accepted if an item is damaged. A refund or exchange will only be processed if we are notified within 7 days of receiving the item and when we have received the returned damaged item. Refunds will not be issued for lost orders by mail or couriers.
Terms & Conditions
Terms & Conditions
This website is operated by Elfhame. By visiting our store, visiting our site and purchasing our products you agree to the following terms and conditions.
We serve the right to refuse and or refund orders at our discretion. You agree to not reproduce, re-sell or exploit any portion of our business (including our products and services).We reserve the right to change the price of our products and services at any time. In no case will Elfhame be liable for the misuse of our products that result in injury or damage.
All items, curio or services sold by Elfhame is sold as a curio only and is not guaranteed effectiveness.