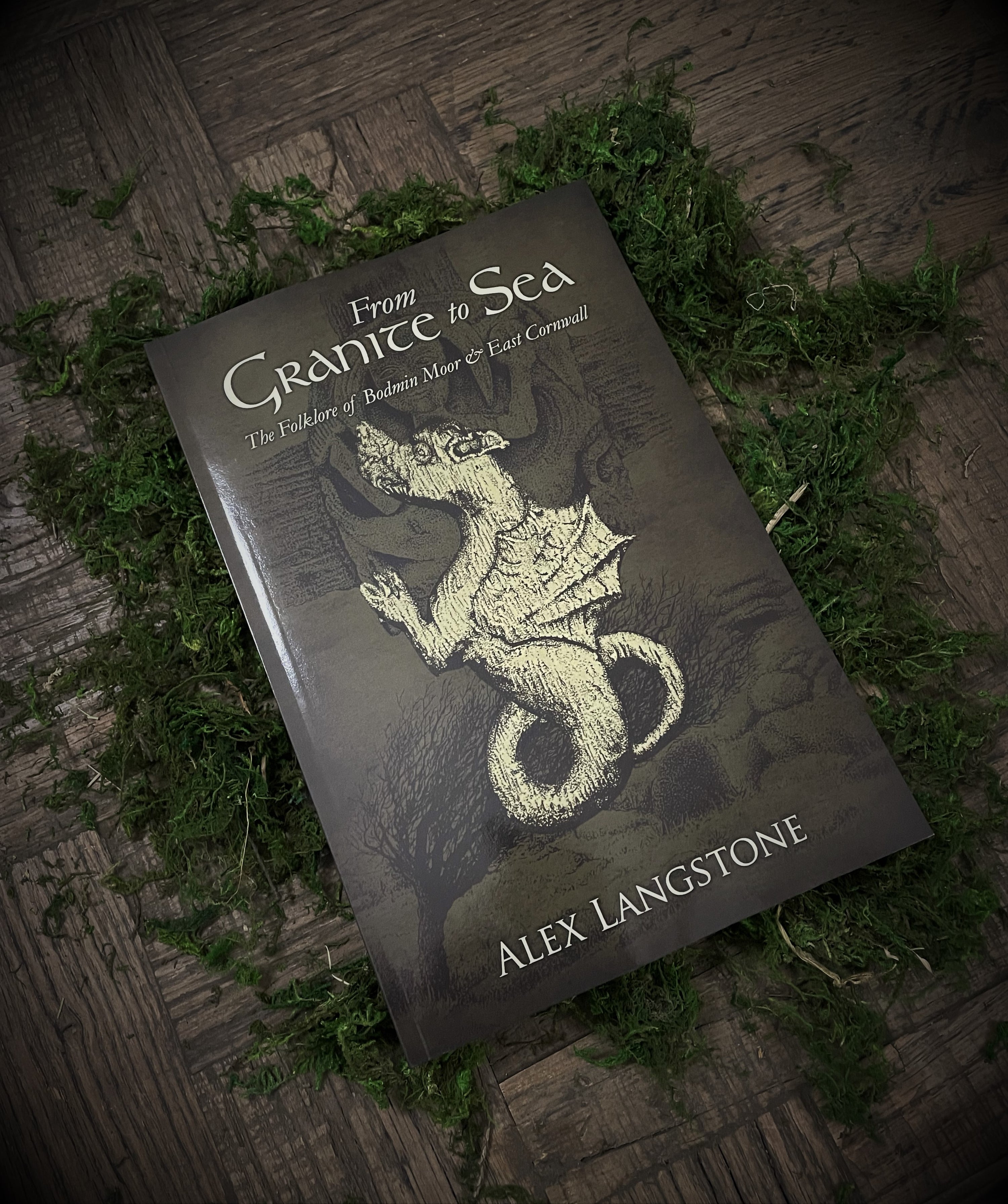 From Granite to Sea, The Folklore of Bodmin Moor and East Cornwall
Author: Alex Langstone
We are delighted to announce Alex Langstone's first title with Troy Books; From Granite to Sea – The Folklore of Bodmin Moor and East Cornwall.
Cornwall is an ancient land steeped in legend and myth. From Granite to Sea explores the folklore of the often-overlooked eastern reaches of the rugged Cornish peninsula, at the heart of which lies the mysterious upland of Bodmin Moor. This beautiful and remote land of granite, which forms the Cornish highlands, inhabits eighty square miles across the central spine of eastern Cornwall. A wild and mysterious landscape, where folklore permeates every hill, rock and river. Inhabited by piskies, giants and conjurors, who in turn control the old trackways, hilltops and weather. It is a land haunted by the wild hunt of the Devil's Dandy Dogs and the demonic spectre of Tregeagle.
From Granite to Sea is the first ever comprehensive focus on the folklore of eastern Cornwall. Alex Langstone's ground-breaking study will guide the reader through a myriad of old tales of witches, conjurors and charmers, supernatural encounters, amazing folk traditions and curious customs from the high moors, rugged clifftops, secret coves and lush estuaries across the eastern reaches of the Duchy.
"evocative and atmospheric" Meyn Mamvro
Alex Langstone, folklorist, poet and author, has been fascinated by the innumerable legends, myths and folklore of the Cornish landscape for much of his life. He lives in an old slate and granite farmhouse, tucked away in the lush green Camel Valley, North Cornwall. When not writing, he can be found exploring the hidden valleys, secret coves and haunted byways of the Cornish landscape.
From Granite to Sea, The Folklore of Bodmin Moor and East Cornwall
Shipping
Fast shipping
To align with our stance on sustainability, all orders are processed and shipped Tuesdays, Thursdays & Fridays in bio-degradable and environmentally sustainable packaging. We also ship with a 100% carbon neutral courier.    
Order tracking
All orders are shipped with tracking details so you can keep track of your orders progress. You will find your orders tracking information in your account settings.
Get in touch
To get in touch with the Elfhame Witches please visit our Contact page, alternatively you can email us at admin@elfhame.com.au
Refunds & Exchanges
Refunds & Exchanges
Due to the nature of our products, refunds or exchanges are only accepted if an item is damaged. A refund or exchange will only be processed if we are notified within 7 days of receiving the item and when we have received the returned damaged item. Refunds will not be issued for lost orders by mail or couriers.
Terms & Conditions
Terms & Conditions
This website is operated by Elfhame. By visiting our store, visiting our site and purchasing our products you agree to the following terms and conditions.
We serve the right to refuse and or refund orders at our discretion. You agree to not reproduce, re-sell or exploit any portion of our business (including our products and services).We reserve the right to change the price of our products and services at any time. In no case will Elfhame be liable for the misuse of our products that result in injury or damage.
All items, curio or services sold by Elfhame is sold as a curio only and is not guaranteed effectiveness.