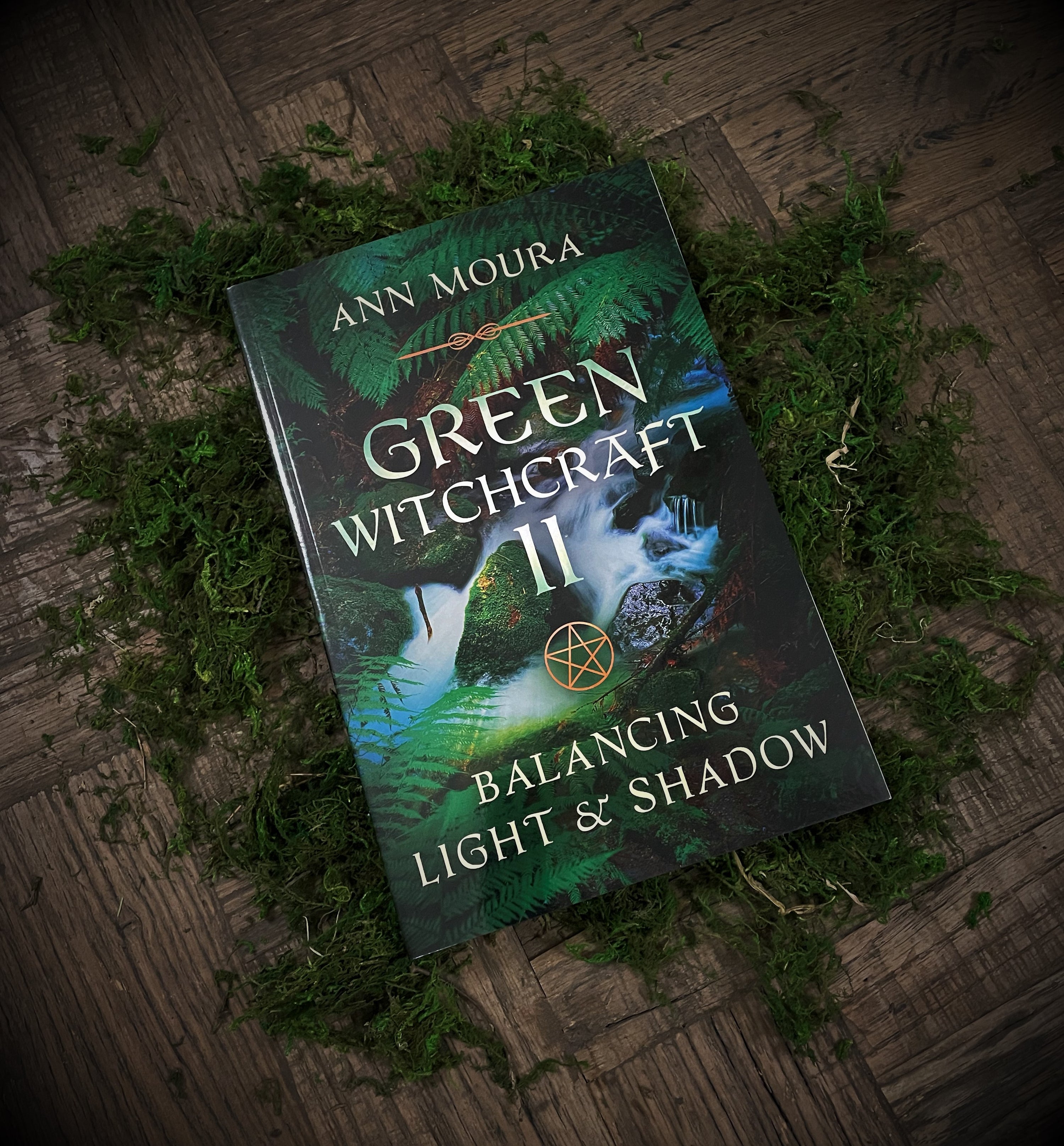 Author: Ann Moura
Green Witches are deeply connected to the Earth and the cosmic balance of light and dark. They welcome the wisdom of the light and the shadow sides of nature, the self, and the Divine to grow more whole in magic and spirit. In Green Witchcraft II, hereditary Witch Ann Moura reveals how to develop a balanced practice by incorporating the powerful, dark aspects of the Goddess and the God. Guided meditations, spells, and rituals enable you to invoke the energy of the dark powers and achieve your goals through magical workings. Use dark power herbs and hear the goddess speak prophecy Create a connection to with the four Elementals with your own elemental bottle Open the doors to past-life memories with the black mirror meditation Learn a spell to pass easily among the three worlds Gather and release the chaos energy of darkness to regenerate the Earth Work with the dark aspects of familiars, the Celtic Ogham, and the Tarot Honor the dark no less than the light…release your fear of the shadows and embrace the other half of yourself with the balancing practices in Green Witchcraft II.
Shipping
Fast shipping
To align with our stance on sustainability, all orders are processed and shipped Tuesdays, Thursdays & Fridays in bio-degradable and environmentally sustainable packaging. We also ship with a 100% carbon neutral courier.    
Order tracking
All orders are shipped with tracking details so you can keep track of your orders progress. You will find your orders tracking information in your account settings.
Get in touch
To get in touch with the Elfhame Witches please visit our Contact page, alternatively you can email us at admin@elfhame.com.au
Refunds & Exchanges
Refunds & Exchanges
Due to the nature of our products, refunds or exchanges are only accepted if an item is damaged. A refund or exchange will only be processed if we are notified within 7 days of receiving the item and when we have received the returned damaged item. Refunds will not be issued for lost orders by mail or couriers.
Terms & Conditions
Terms & Conditions
This website is operated by Elfhame. By visiting our store, visiting our site and purchasing our products you agree to the following terms and conditions.
We serve the right to refuse and or refund orders at our discretion. You agree to not reproduce, re-sell or exploit any portion of our business (including our products and services).We reserve the right to change the price of our products and services at any time. In no case will Elfhame be liable for the misuse of our products that result in injury or damage.
All items, curio or services sold by Elfhame is sold as a curio only and is not guaranteed effectiveness.