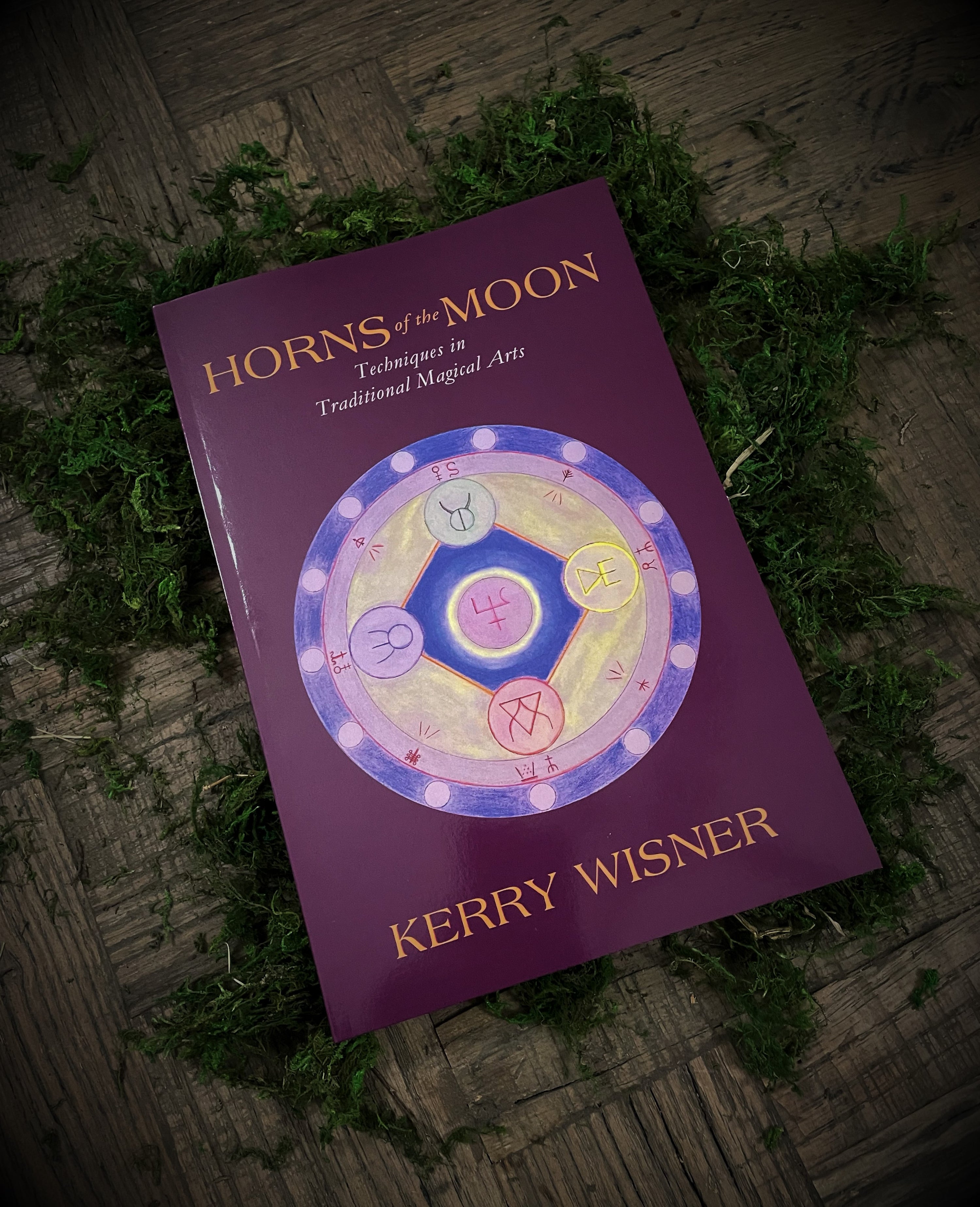 Horns of the Moon, Techniques in Traditional Magical Arts
Author: Kerry Wisner
Following on from The Willow Path – Witchcraft, Hermetics & The Hidden Wisdom of the Magical Arts We present to you here Horns of the Moon – Techniques in Traditional Magical Arts
"By hare and hound
By fish and otter,
By grain that falls for the hen to devour.
With dragons red and white,
We climb the mountain in the night!"
So begins an enchantment drawing the Witch into realms seldom experienced by most people. Horns of the Moon is the second book in The Geassa trilogy, describing techniques in Traditional magical arts.  Procedures designed to bring one in contact with other worlds not normally perceived, and with the beings who inhabit these.
Horns of the Moon, presents detailed instructions and ritual practices that continue the training of the Traditional Witch.  Beginning with the differences between the 'natural Witch' compared to those who need to cultivate their abilities we examine the importance of training; working solo as well as with others; to learning the art of merging and becoming.  Beyond this the book discusses:  
• Traveling in Spirit, Sending Forth the Fetch, and how to enter different realms and realities at will.
• How to interact with otherworld beings and spirits tied to one's locale;
• Cycles of time weaving in patterns of power that influence magical practices, including the twenty-eight Ladies of the Moon;
• Basque and Strega Moon Water, as well as the Witches Condenser from traditional sources;
• The use of sound, enchantments and Words of Power in the Art;
• Ritual possession, as "the Mare", in Traditional Witchcraft, and much more.
Drawing from Traditional Witchcraft, Hermetics and Ancient Egyptian sources Horns of the Moon represents a blend of techniques in use today as a practical system in the Magical Arts.
Horns of the Moon, Techniques in Traditional Magical Arts
Shipping
Fast shipping
To align with our stance on sustainability, all orders are processed and shipped Tuesdays, Thursdays & Fridays in bio-degradable and environmentally sustainable packaging. We also ship with a 100% carbon neutral courier.    
Order tracking
All orders are shipped with tracking details so you can keep track of your orders progress. You will find your orders tracking information in your account settings.
Get in touch
To get in touch with the Elfhame Witches please visit our Contact page, alternatively you can email us at admin@elfhame.com.au
Refunds & Exchanges
Refunds & Exchanges
Due to the nature of our products, refunds or exchanges are only accepted if an item is damaged. A refund or exchange will only be processed if we are notified within 7 days of receiving the item and when we have received the returned damaged item. Refunds will not be issued for lost orders by mail or couriers.
Terms & Conditions
Terms & Conditions
This website is operated by Elfhame. By visiting our store, visiting our site and purchasing our products you agree to the following terms and conditions.
We serve the right to refuse and or refund orders at our discretion. You agree to not reproduce, re-sell or exploit any portion of our business (including our products and services).We reserve the right to change the price of our products and services at any time. In no case will Elfhame be liable for the misuse of our products that result in injury or damage.
All items, curio or services sold by Elfhame is sold as a curio only and is not guaranteed effectiveness.