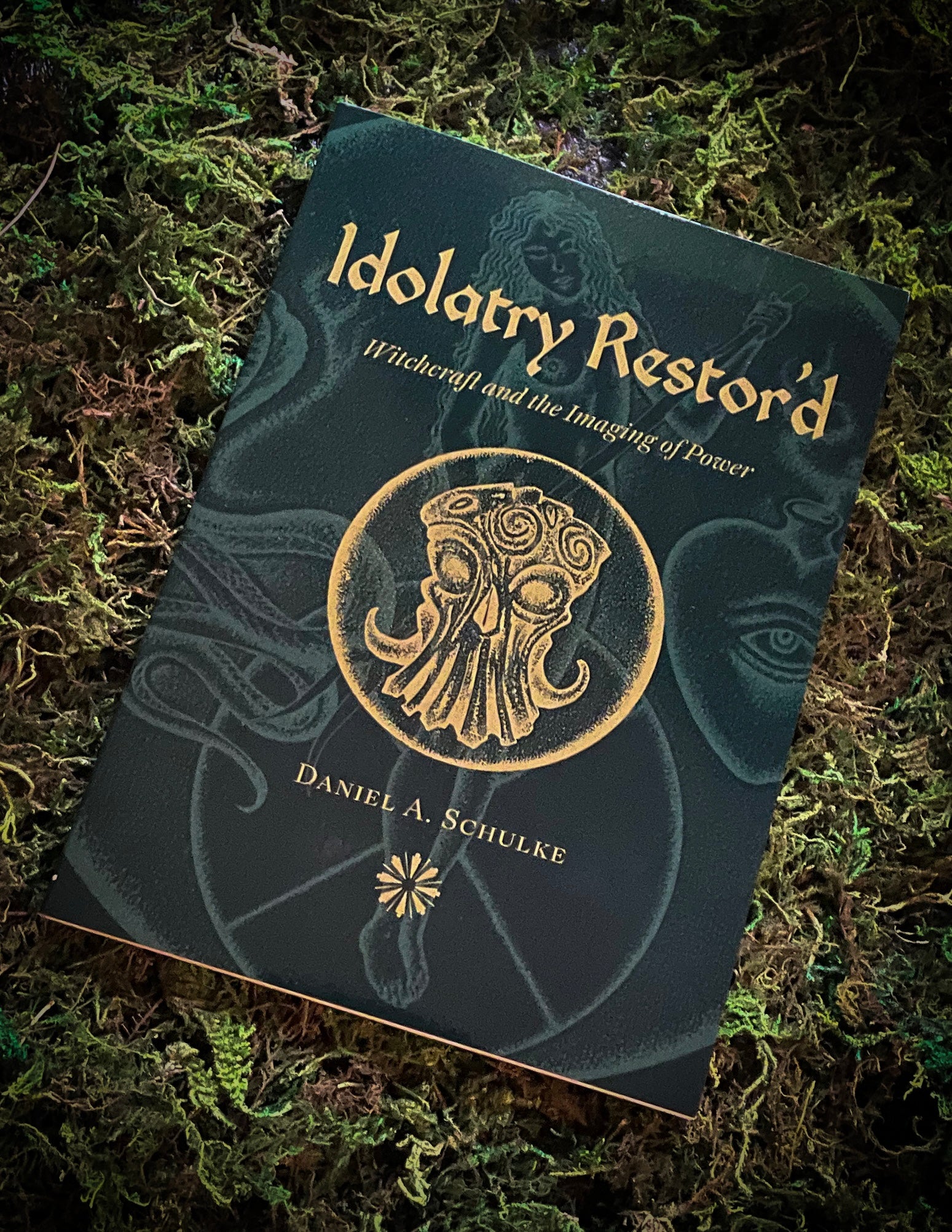 Idolatry Restor'd, Witchcraft & the Imagining of Power
Author: Daniel A. Schulke
The translation of magical power to image is a matter well understood in archaic forms of sorcery, the resulting artifact being a mutual embodiment of Representation and the Represented. The Fetish, for example, arises at the nexus of a reciprocal process between Object and Creator that begins long before adzes and chisels are set to wood… thus participating in its own reification. Many of these eldritch forms of magical image-making were concerned with accessing power, and it was only later, in the context of religious devotion, that their forms densified into 'mere' idols. Yet witchcraft, with its stance as 'outlaw' to both religion and lawful magic, has never deemed such magic heresy. Instead, through its 'promiscuity' of syncretic magical currents, it has continued to acknowledge the image-fetish as both holy and possessed of supreme numen imbued by its maker.
Idolatry Restor'd, Witchcraft & the Imagining of Power
Shipping
Fast shipping
To align with our stance on sustainability, all orders are processed and shipped Tuesdays, Thursdays & Fridays in bio-degradable and environmentally sustainable packaging. We also ship with a 100% carbon neutral courier.    
Order tracking
All orders are shipped with tracking details so you can keep track of your orders progress. You will find your orders tracking information in your account settings.
Get in touch
To get in touch with the Elfhame Witches please visit our Contact page, alternatively you can email us at admin@elfhame.com.au
Refunds & Exchanges
Refunds & Exchanges
Due to the nature of our products, refunds or exchanges are only accepted if an item is damaged. A refund or exchange will only be processed if we are notified within 7 days of receiving the item and when we have received the returned damaged item. Refunds will not be issued for lost orders by mail or couriers.
Terms & Conditions
Terms & Conditions
This website is operated by Elfhame. By visiting our store, visiting our site and purchasing our products you agree to the following terms and conditions.
We serve the right to refuse and or refund orders at our discretion. You agree to not reproduce, re-sell or exploit any portion of our business (including our products and services).We reserve the right to change the price of our products and services at any time. In no case will Elfhame be liable for the misuse of our products that result in injury or damage.
All items, curio or services sold by Elfhame is sold as a curio only and is not guaranteed effectiveness.