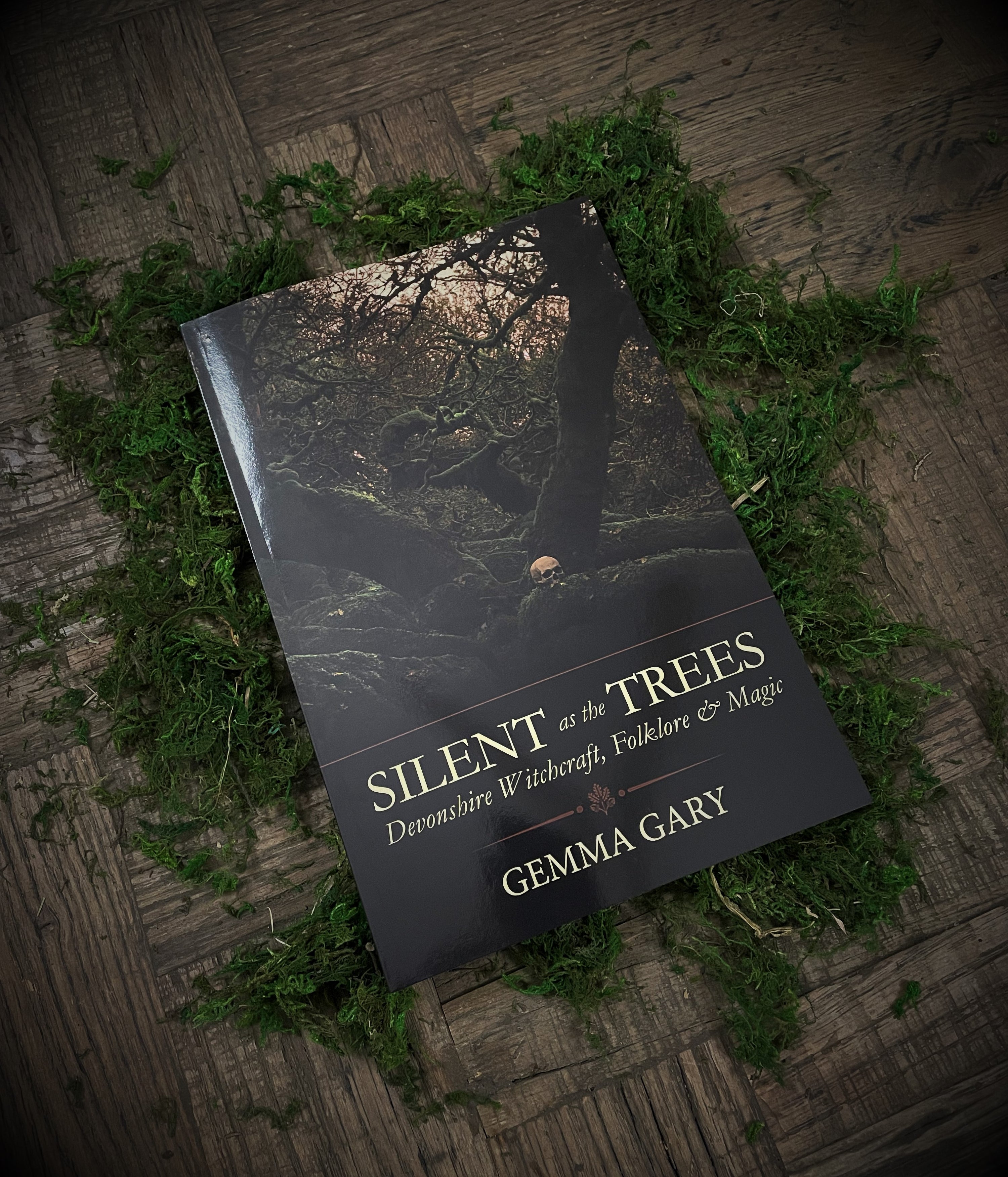 Silent as the Trees, Devonshire Witchcraft, Folklore & Magic
Author: Gemma Gary
Silent as the trees is a book exploring the old witchcraft, magical traditions and folklore nurtured amidst the village communities, hills, moors and ancient woods of Devonshire in South West England.
In this, her sixth book, Gemma Gary introduces Devon's witches and magical folk, examining their lives and their magic; from historical figures such as the 'white witch' Caulks of Exeter, the Devonshire 'toad witches' and an examination of the trial of the Bideford Witches, to more modern practitioners such as the 'cunning man' and witchcraft collector Cecil Williamson.
Old stories in Devon tell of the often troublesome encounters between ordinary folk and the world of witchery. These encounters give valuable insights not only into the strange and fantastical beliefs surrounding witches but also the traditional methods of beneficial magic and 'counter cursing' via the experiences of those who sought the aid of the 'white witches' and conjurors to lift the maleficia of the 'black witch'.
Devon is a county particularly rich in folklore and mythology, in which we also often find the character of the witch, and the heady presence of Black Dog apparitions, the Wild Hunt and the Devil Himself. Many such tales weave their way around the plentiful strange stones and haunting ancient sites of this most mysterious landscape.
Within this book Gemma Gary also guides us through the fascinating witch beliefs of the region surrounding 'skin turning'; the old witch-arte of bestial shape-shifting, as well as the tradition of the familiar spirit and the witches' methods for gaining spirit companions.
Silent as the Trees is two books in one, for included within its pages is a 'Black Book of Devonshire Magic' detailing an extensive collection of genuine Devonshire spells, charms and magical rites.
Within this collection, we find magical workings for power, spirit vision, cure charms for all manner of ailments and injuries, curse magic, protections and magical defence, love charms, good fortune, charms for animals, and traditional Devonshire toad magic.
Silent as the Trees, Devonshire Witchcraft, Folklore & Magic
Shipping
Fast shipping
To align with our stance on sustainability, all orders are processed and shipped Tuesdays, Thursdays & Fridays in bio-degradable and environmentally sustainable packaging. We also ship with a 100% carbon neutral courier.    
Order tracking
All orders are shipped with tracking details so you can keep track of your orders progress. You will find your orders tracking information in your account settings.
Get in touch
To get in touch with the Elfhame Witches please visit our Contact page, alternatively you can email us at admin@elfhame.com.au
Refunds & Exchanges
Refunds & Exchanges
Due to the nature of our products, refunds or exchanges are only accepted if an item is damaged. A refund or exchange will only be processed if we are notified within 7 days of receiving the item and when we have received the returned damaged item. Refunds will not be issued for lost orders by mail or couriers.
Terms & Conditions
Terms & Conditions
This website is operated by Elfhame. By visiting our store, visiting our site and purchasing our products you agree to the following terms and conditions.
We serve the right to refuse and or refund orders at our discretion. You agree to not reproduce, re-sell or exploit any portion of our business (including our products and services).We reserve the right to change the price of our products and services at any time. In no case will Elfhame be liable for the misuse of our products that result in injury or damage.
All items, curio or services sold by Elfhame is sold as a curio only and is not guaranteed effectiveness.