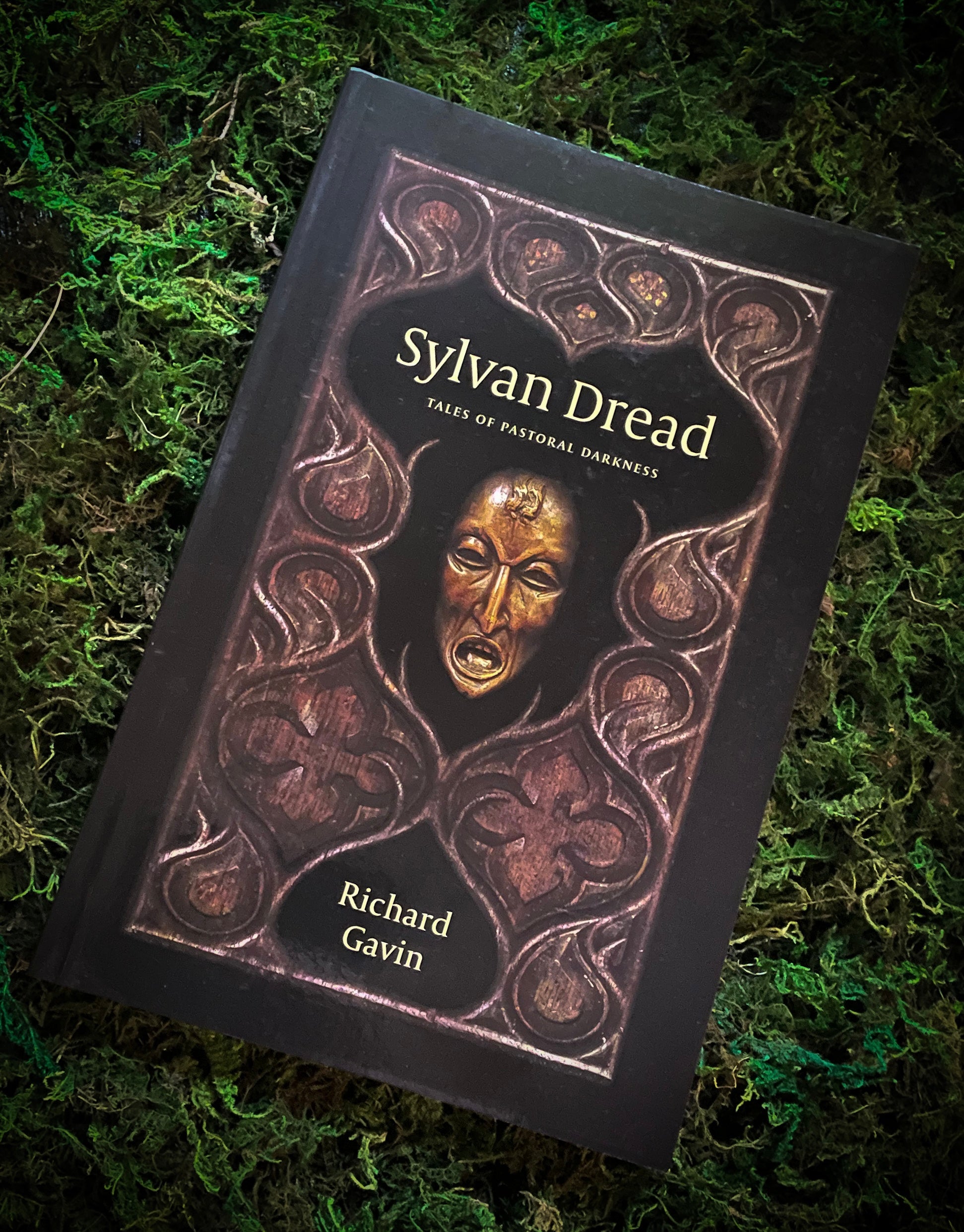 Sylvan Dread, Tales of Pastoral Darkness
Author: Richard Gavin


Those who dwell unseen within the hedge, the grotesques emergent in the weave of tangled roots, the writhing form amid the shadows of the Willow boughs—all are keepers of a rustic and terrible wisdom predating the emergence of mankind. Lurching between disembodiment and wholly manifest flesh, the baleful forces of wasteland and rural barren have long been etched upon the human soul.
From the preeminent author of At Fear's Altar and The Benighted Path comes Sylvan Dread, Richard Gavin's long awaited fifth collection of preternatural tales. Bound within are thirteen nightmares exploring the Sinister Pastoral, the dominion prevailing at the intersection of mortal reckoning and the primoridum of daemonic Nature.
As a meditation on the forces of predation and parasitism, monstrous fecundity and decay, and those hidden folk who occupy the spaces between the branches, Sylvan Dread evokes the primeval wood — the place where all dreams and nightmares begin. In this isolate copse we witness the excavation of abominations long earthbound, the twilight of the rational, and the forgotten violence of the Dionysian Rite.
In medieval times scholars spoke of "Natura naturans" ---  Nature reveling in her sheer fecundity and pagan vitality. Like Blackwood and Machen before him, Richard Gavin knows the inhuman yet seductive rapture of the deep woods; he has heard the ancient music on the hills. In his stories of "sylvan dread," his protagonists explore uncanny ravines and hillside clefts, take part in sacrilegious rites, encounter maenads and goatbrides and Lovecraftian horrors. Gavin's prose is always quietly controlled, carefully crafted,  but it inexorably leads his men and women into realms of terrifying otherness,  where they are changed, changed utterly.
—Michael Dirda
Pulitzer Prize-winning critic
Author of The Great Age of Storytelling
Sylvan Dread, Tales of Pastoral Darkness
Shipping
Fast shipping
To align with our stance on sustainability, all orders are processed and shipped Tuesdays, Thursdays & Fridays in bio-degradable and environmentally sustainable packaging. We also ship with a 100% carbon neutral courier.    
Order tracking
All orders are shipped with tracking details so you can keep track of your orders progress. You will find your orders tracking information in your account settings.
Get in touch
To get in touch with the Elfhame Witches please visit our Contact page, alternatively you can email us at admin@elfhame.com.au
Refunds & Exchanges
Refunds & Exchanges
Due to the nature of our products, refunds or exchanges are only accepted if an item is damaged. A refund or exchange will only be processed if we are notified within 7 days of receiving the item and when we have received the returned damaged item. Refunds will not be issued for lost orders by mail or couriers.
Terms & Conditions
Terms & Conditions
This website is operated by Elfhame. By visiting our store, visiting our site and purchasing our products you agree to the following terms and conditions.
We serve the right to refuse and or refund orders at our discretion. You agree to not reproduce, re-sell or exploit any portion of our business (including our products and services).We reserve the right to change the price of our products and services at any time. In no case will Elfhame be liable for the misuse of our products that result in injury or damage.
All items, curio or services sold by Elfhame is sold as a curio only and is not guaranteed effectiveness.