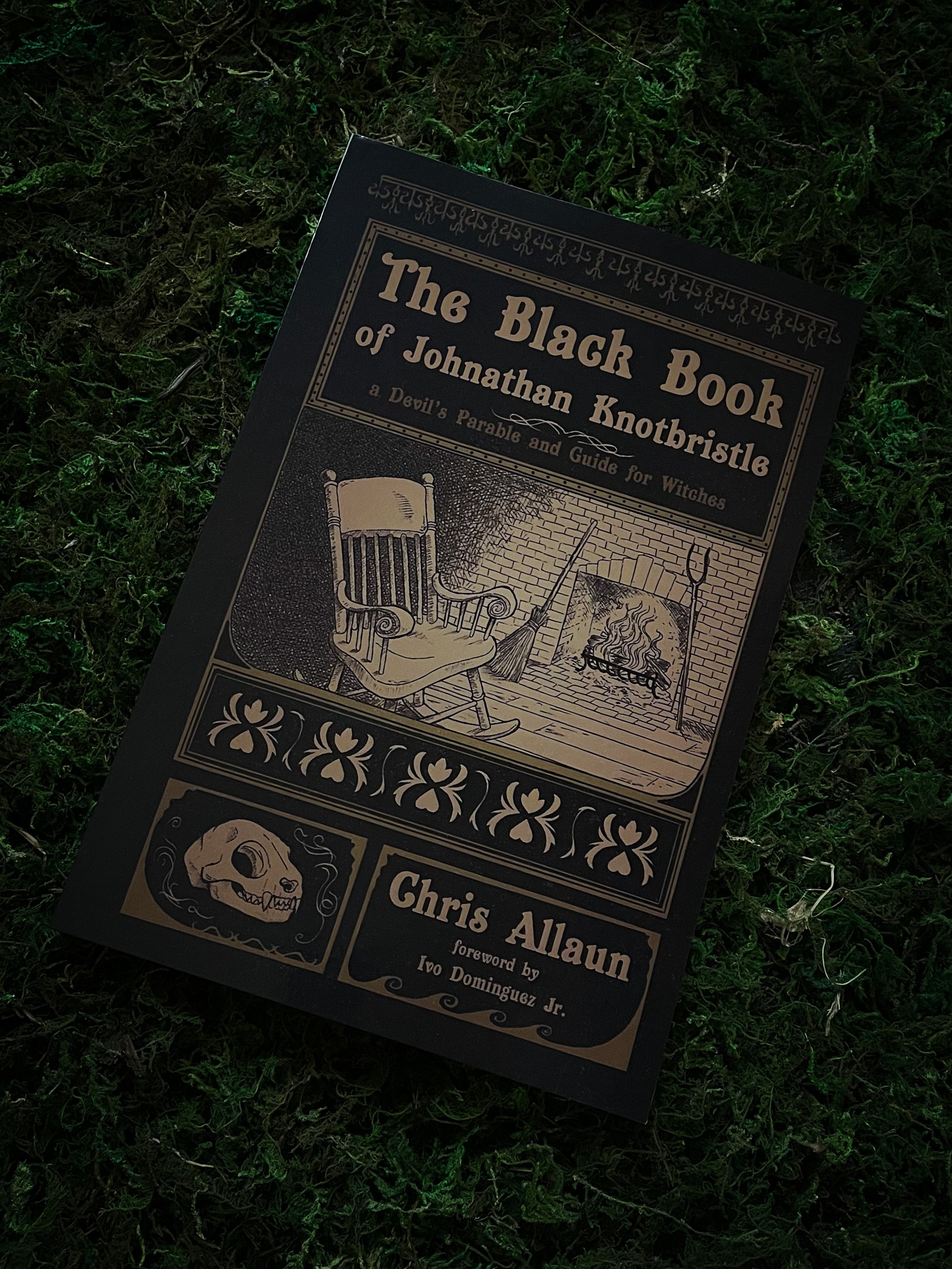 The Black Book of Johnathan Knotbristle
 Author: Chris Allaun
The Black Book of Johnathan Knotbristle: A Devil's Parable & Guide for Witches offers an engaging, hands-on manual of old style Witchcraft disguised in the creatively woven words of the Devil's parable. Chris Allaun, drawing on his decades of experience in the study and practice of Witchcraft, utilizes storytelling to illustrate how a Witch could have found compact, and thus power, through communion with the figure known as the Devil. Each chapter is a new lesson told from the perspective of our main character, Johnathan Knotbristle, that he, in turn, learns from the Devil. The second part of the book is the actual grimoire that offers the reader step by step instructions for working the acts of magic referenced in part one. It includes workings to create the Devil's Stang, methods of entering trance, instructions on spirit conjuration, and much, much more. 
The Black Book of Johnathan Knotbristle
Shipping
Fast shipping
To align with our stance on sustainability, all orders are processed and shipped Tuesdays, Thursdays & Fridays in bio-degradable and environmentally sustainable packaging. We also ship with a 100% carbon neutral courier.    
Order tracking
All orders are shipped with tracking details so you can keep track of your orders progress. You will find your orders tracking information in your account settings.
Get in touch
To get in touch with the Elfhame Witches please visit our Contact page, alternatively you can email us at admin@elfhame.com.au
Refunds & Exchanges
Refunds & Exchanges
Due to the nature of our products, refunds or exchanges are only accepted if an item is damaged. A refund or exchange will only be processed if we are notified within 7 days of receiving the item and when we have received the returned damaged item. Refunds will not be issued for lost orders by mail or couriers.
Terms & Conditions
Terms & Conditions
This website is operated by Elfhame. By visiting our store, visiting our site and purchasing our products you agree to the following terms and conditions.
We serve the right to refuse and or refund orders at our discretion. You agree to not reproduce, re-sell or exploit any portion of our business (including our products and services).We reserve the right to change the price of our products and services at any time. In no case will Elfhame be liable for the misuse of our products that result in injury or damage.
All items, curio or services sold by Elfhame is sold as a curio only and is not guaranteed effectiveness.