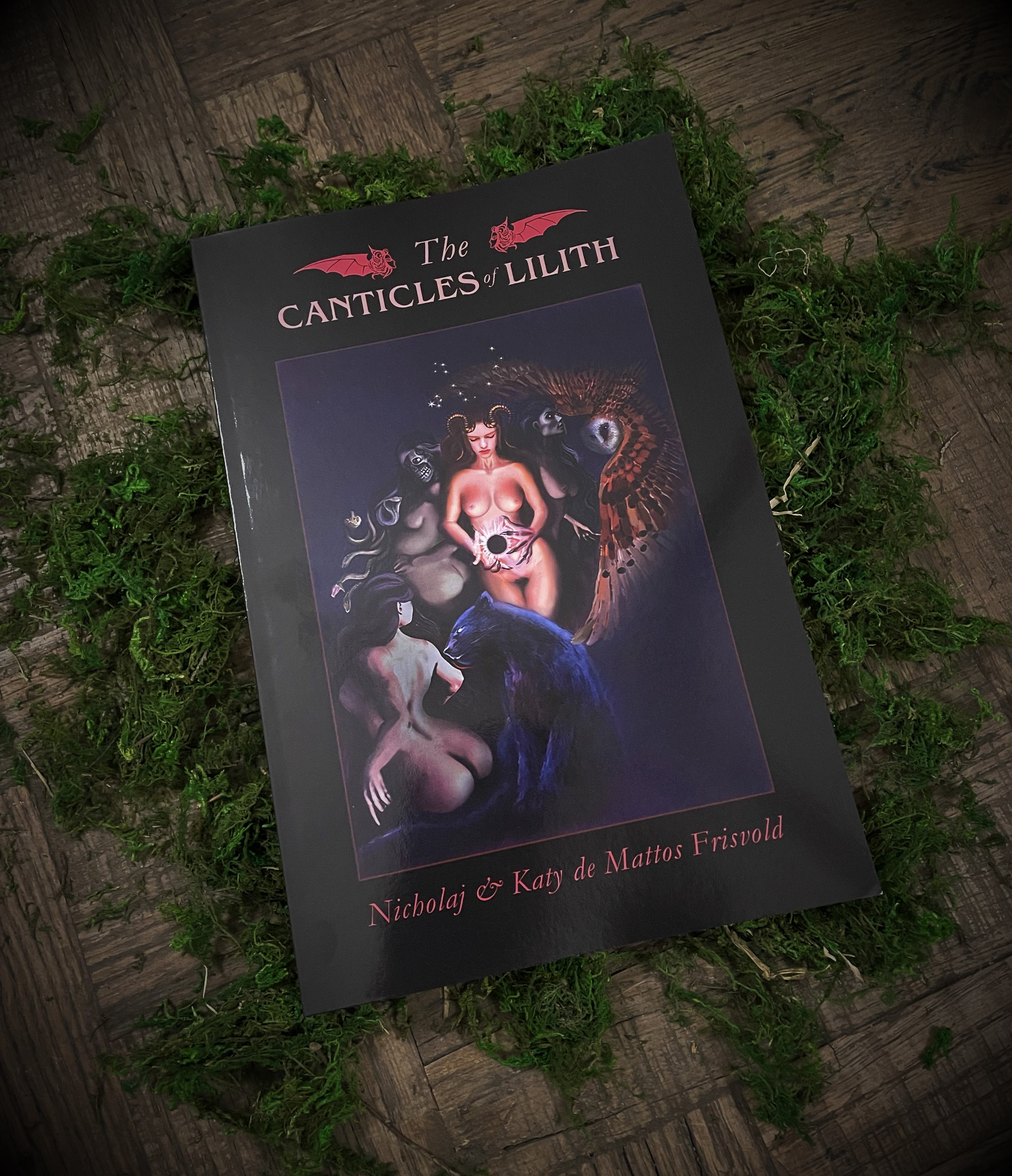 Author: Nicholaj & Katy de Mattos Frisvold
We are pleased to welcome Nicholaj & Katy de Mattos Frisvold to Troy Books, with their new title The Canticles of Lilith.
In The Canticles of Lilith we meet a power that adorns herself in absence, whose true persuasion consists in the cult of reverence and self-deification where this terrible, amoral force finds its apotheosis as the stellar and cosmic root of movement in itself and from this the shadow of all things visible and tangible. Raphael Patai pointed out the remarkable spiritual evolution of Lilith, how she went from being a malevolent storm goddess and a failure in the eyes of Adam to the bride of Samael, the Queen of Zemargad and Sheba, this she-demon rising to be the consort and secret word at par with God in the Kabbalistic age.
The Canticles of Lilith is focused in following the Lilithian theme with a focus on her 'atmosphere' or 'constellation' where she is analysed as a vampiric spirit, a Satanic muse, the witch-mother and the very vibrant and erotic word of creation, the holy spirit herself. This wide web of Lilithian analysis gives way for her cosmic dimensions and her various manifestations astrologically, Luciferian, Satanic, as a spirit of illness and of the erotic. The Canticles of Lilith casts a wide web in order to understand this force who rejects worship and thrives in the mystery of gravity and anti-matter.
Shipping
Fast shipping
To align with our stance on sustainability, all orders are processed and shipped Tuesdays, Thursdays & Fridays in bio-degradable and environmentally sustainable packaging. We also ship with a 100% carbon neutral courier.    
Order tracking
All orders are shipped with tracking details so you can keep track of your orders progress. You will find your orders tracking information in your account settings.
Get in touch
To get in touch with the Elfhame Witches please visit our Contact page, alternatively you can email us at admin@elfhame.com.au
Refunds & Exchanges
Refunds & Exchanges
Due to the nature of our products, refunds or exchanges are only accepted if an item is damaged. A refund or exchange will only be processed if we are notified within 7 days of receiving the item and when we have received the returned damaged item. Refunds will not be issued for lost orders by mail or couriers.
Terms & Conditions
Terms & Conditions
This website is operated by Elfhame. By visiting our store, visiting our site and purchasing our products you agree to the following terms and conditions.
We serve the right to refuse and or refund orders at our discretion. You agree to not reproduce, re-sell or exploit any portion of our business (including our products and services).We reserve the right to change the price of our products and services at any time. In no case will Elfhame be liable for the misuse of our products that result in injury or damage.
All items, curio or services sold by Elfhame is sold as a curio only and is not guaranteed effectiveness.