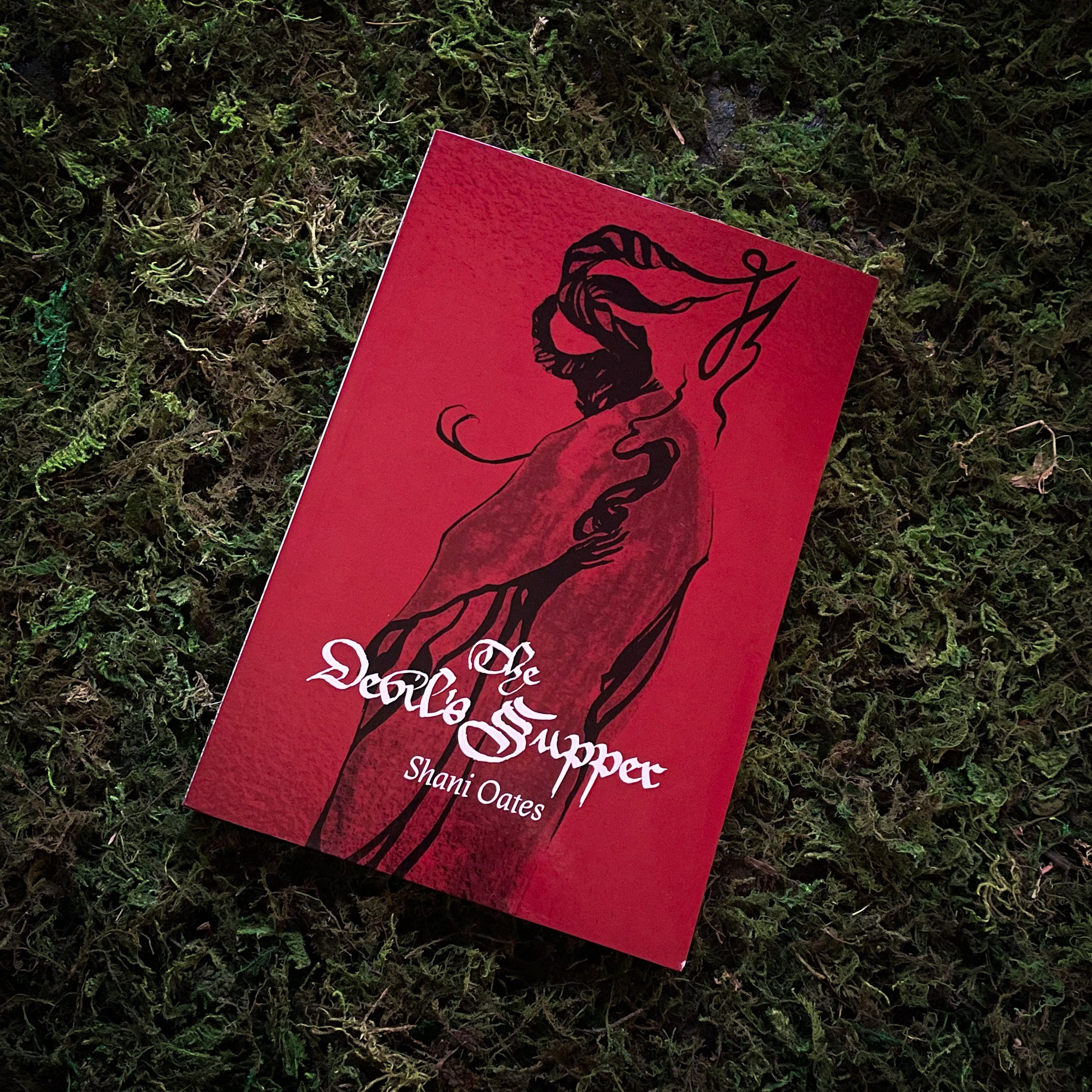 Author: Shani Oates
Always, the Devil is presented as a beacon of decadence and indulgence, whether fair or foul. And, whether droll or tragic, he does – in spite of his bad press – appear always to have our best interests at heart. Perhaps this is why many of us have a soft spot for this notorious rebel who reflects, as he does, the all too human element within. As supreme chimera, he is without peer; his amorphous ambiguity allows him to cross continents, cultures, and time effortlessly; he afflicts art and society in ever more creative and challenging ways… To know his work, we must seek what lies beneath the final mask.
The Grande Sabbat Feast, The Night Visitations, and the Faerie Rade – The Devil's Supper is the sacred and profane history of a buffoon, racketeer, demon, daemon, trickster, Faerie King, Great Opposer, and the Lie. 
From pre-history to post-modern times, the bogeyman behind folk tales and legends tells his long tale in this uniquely historical perspective – one that explores why Providence is the sacred duty of The Lord of this World. From Carnival to Utopia, and from Feast to Famine, the secret traditions of the Devil and all his Works are explored in considerable depth and explained by the people who feared and courted him, rather than ecclesiastical authorities. His tools of arte range from his holy trident to profane hallucinogenics, and from sacred cup to holy feast.
From Scapegoat to master of illusion, the Devil is ever present as the Great Opposer. He is the primeval master of disguise, and master of ceremonies; he is the grand host of the Sabbat. 
Through incarnations and paradigm shifts, his coat is of many colours. From Heresy to Houzle, the enigma of the Devil is seductively astute. This narrative is an invitation to sup at his table as we profile him through theology and myth. As The Devil's Supper tackles concepts of evil, sin, and retribution, what he has to say may just enlighten you!
Shipping
Fast shipping
To align with our stance on sustainability, all orders are processed and shipped Tuesdays, Thursdays & Fridays in bio-degradable and environmentally sustainable packaging. We also ship with a 100% carbon neutral courier.    
Order tracking
All orders are shipped with tracking details so you can keep track of your orders progress. You will find your orders tracking information in your account settings.
Get in touch
To get in touch with the Elfhame Witches please visit our Contact page, alternatively you can email us at admin@elfhame.com.au
Refunds & Exchanges
Refunds & Exchanges
Due to the nature of our products, refunds or exchanges are only accepted if an item is damaged. A refund or exchange will only be processed if we are notified within 7 days of receiving the item and when we have received the returned damaged item. Refunds will not be issued for lost orders by mail or couriers.
Terms & Conditions
Terms & Conditions
This website is operated by Elfhame. By visiting our store, visiting our site and purchasing our products you agree to the following terms and conditions.
We serve the right to refuse and or refund orders at our discretion. You agree to not reproduce, re-sell or exploit any portion of our business (including our products and services).We reserve the right to change the price of our products and services at any time. In no case will Elfhame be liable for the misuse of our products that result in injury or damage.
All items, curio or services sold by Elfhame is sold as a curio only and is not guaranteed effectiveness.