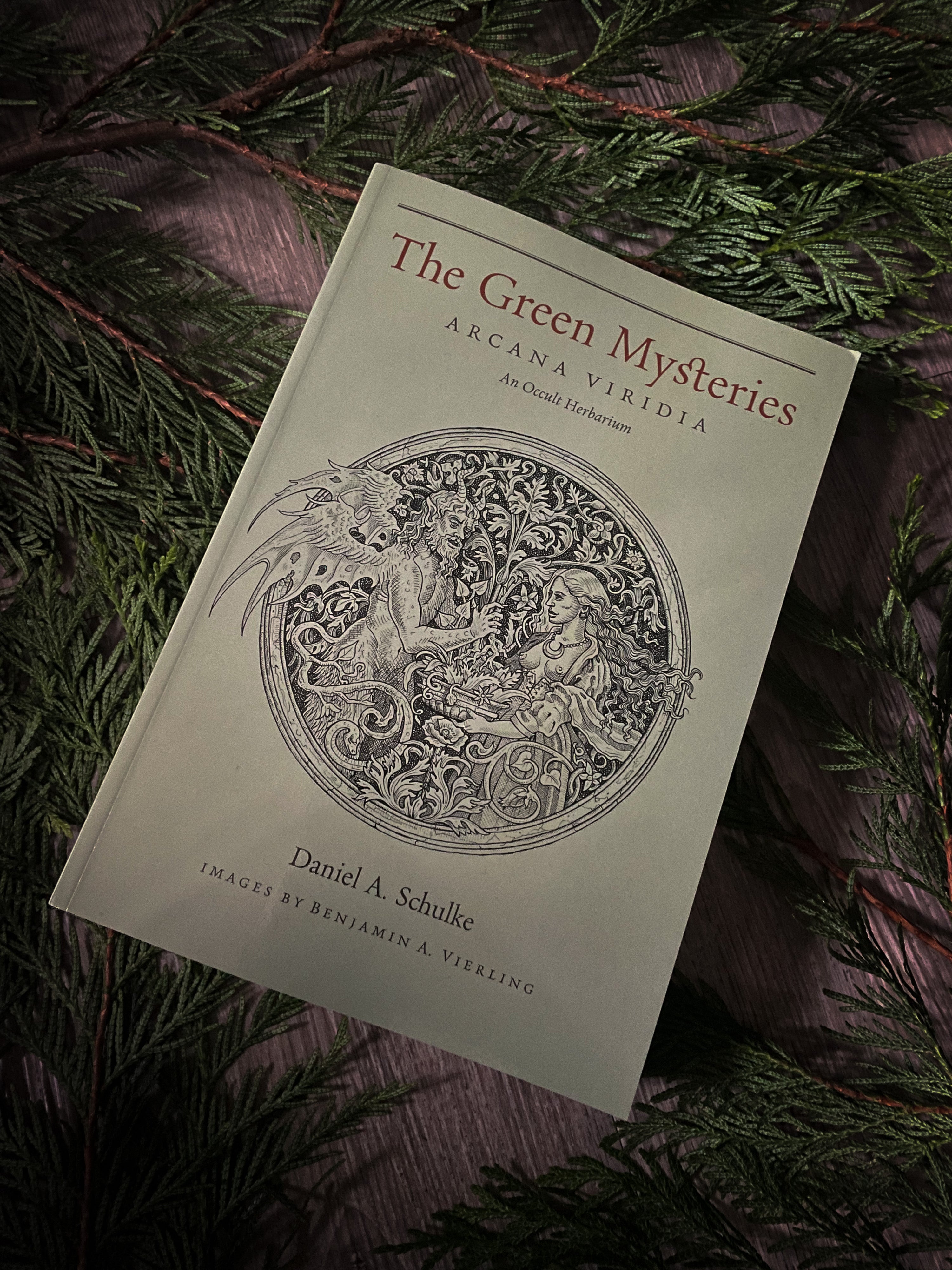 Author: Daniel Schulke
Illustrations by Benjamin Vierling
From the author of Veneficium comes The Green Mysteries, the monumental product of twenty-five years of experiential research on the spiritual and occult properties of plants. Being a compendium of trees and herbs from countless spiritual traditions, this exhaustive Herbal of esoteric botany examines in detail the folklore, magical uses and spiritual essences of the vegetal kingdom. While presenting the material through both magical and mythopoetic narrative, the stance of the book is also grounded firmly in supportive disciplines such as botany, chemistry, and anthropology, and also includes up-to-date phylogenetic and pharmacological findings. The text focuses especially upon the Doctrine of Plant Essence, and how those powers are utilized in the active practice of magic and sorcery.
Interspersed with encyclopedic plant entries are short narratives addressing such concepts as the Witches' Flying Oinment, intoxicating incense, the herbal dimsension of Alchemy, and the 'Green Saints' such as Al-Khidir, the medieval Wildman, and the forest-dwelling Nymphs who nourished the Greek gods. More than a mere collation of previously existing works on plants, much of the material is drawn directly from the author's private field notes, diaries, and manuals of magical operation from 1991-2016, presented in an engaging narrative style. 
THE GREEN MYSTERIES contains:
—560 pages, with over 275 original illustrations specifically commissioned for this book, with original calligraphy by Gail Coppock
—12 full-page color plates
—Magical Correspondences, Ethnobotany, Folklore & Chemistry
—Charts, Tables, Diagrams and Lexica of Magical Botany
—Extensive information on Pharmacology and Posions
—Recipes and Ritual Formulae 
Shipping
Fast shipping
To align with our stance on sustainability, all orders are processed and shipped Tuesdays, Thursdays & Fridays in bio-degradable and environmentally sustainable packaging. We also ship with a 100% carbon neutral courier.    
Order tracking
All orders are shipped with tracking details so you can keep track of your orders progress. You will find your orders tracking information in your account settings.
Get in touch
To get in touch with the Elfhame Witches please visit our Contact page, alternatively you can email us at admin@elfhame.com.au
Refunds & Exchanges
Refunds & Exchanges
Due to the nature of our products, refunds or exchanges are only accepted if an item is damaged. A refund or exchange will only be processed if we are notified within 7 days of receiving the item and when we have received the returned damaged item. Refunds will not be issued for lost orders by mail or couriers.
Terms & Conditions
Terms & Conditions
This website is operated by Elfhame. By visiting our store, visiting our site and purchasing our products you agree to the following terms and conditions.
We serve the right to refuse and or refund orders at our discretion. You agree to not reproduce, re-sell or exploit any portion of our business (including our products and services).We reserve the right to change the price of our products and services at any time. In no case will Elfhame be liable for the misuse of our products that result in injury or damage.
All items, curio or services sold by Elfhame is sold as a curio only and is not guaranteed effectiveness.