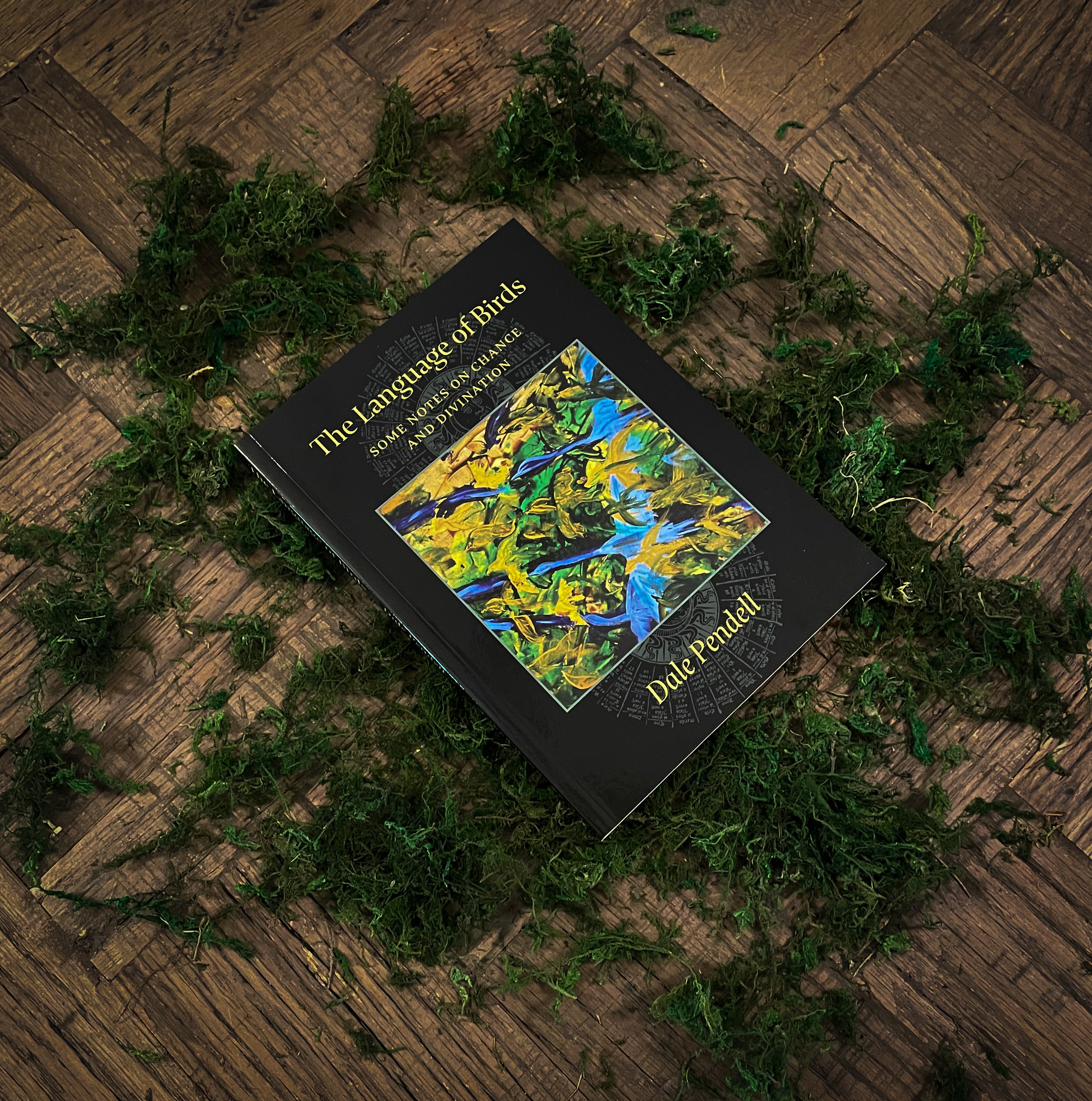 Author: Dale Pendell
Chance, the great beloved of gamblers, lovers, generals and kings, has long held sway over mortal affairs. Whether embodied as the goddess Fortuna and her ever-turning wheel, or the abstract mathematic of 'randomness', her favor is universally sought, and her displeasure feared. To the devotee of Chance, the arts of divination may be regarded as her secret liturgy, providing glimpses of the unknown to those she esteems. Into the retort of the alchemist-poet, Pendell compounds portent, omen, oracle, and the art of prediction to distill The Language of the Birds, a reverie upon the nature of the Luck, Lady Fortune and the sacred function of Chance.
Out of print since 2017, the second edition of The Language of Birds contains a new foreword to the work by Andrew Schelling, author of Tracks Along the Left Coast (Counterpoint Press, 2017). It is 72 pages, printed on heavy acid-free art stock, with eleven illustrations, including an original image by the author in full color. Fully redesigned by Joseph Uccello and Daniel Schulke, it pays homage to the spirit of the original design created by Pendell and Schulke in 2009.
Shipping
Fast shipping
To align with our stance on sustainability, all orders are processed and shipped Tuesdays, Thursdays & Fridays in bio-degradable and environmentally sustainable packaging. We also ship with a 100% carbon neutral courier.    
Order tracking
All orders are shipped with tracking details so you can keep track of your orders progress. You will find your orders tracking information in your account settings.
Get in touch
To get in touch with the Elfhame Witches please visit our Contact page, alternatively you can email us at admin@elfhame.com.au
Refunds & Exchanges
Refunds & Exchanges
Due to the nature of our products, refunds or exchanges are only accepted if an item is damaged. A refund or exchange will only be processed if we are notified within 7 days of receiving the item and when we have received the returned damaged item. Refunds will not be issued for lost orders by mail or couriers.
Terms & Conditions
Terms & Conditions
This website is operated by Elfhame. By visiting our store, visiting our site and purchasing our products you agree to the following terms and conditions.
We serve the right to refuse and or refund orders at our discretion. You agree to not reproduce, re-sell or exploit any portion of our business (including our products and services).We reserve the right to change the price of our products and services at any time. In no case will Elfhame be liable for the misuse of our products that result in injury or damage.
All items, curio or services sold by Elfhame is sold as a curio only and is not guaranteed effectiveness.