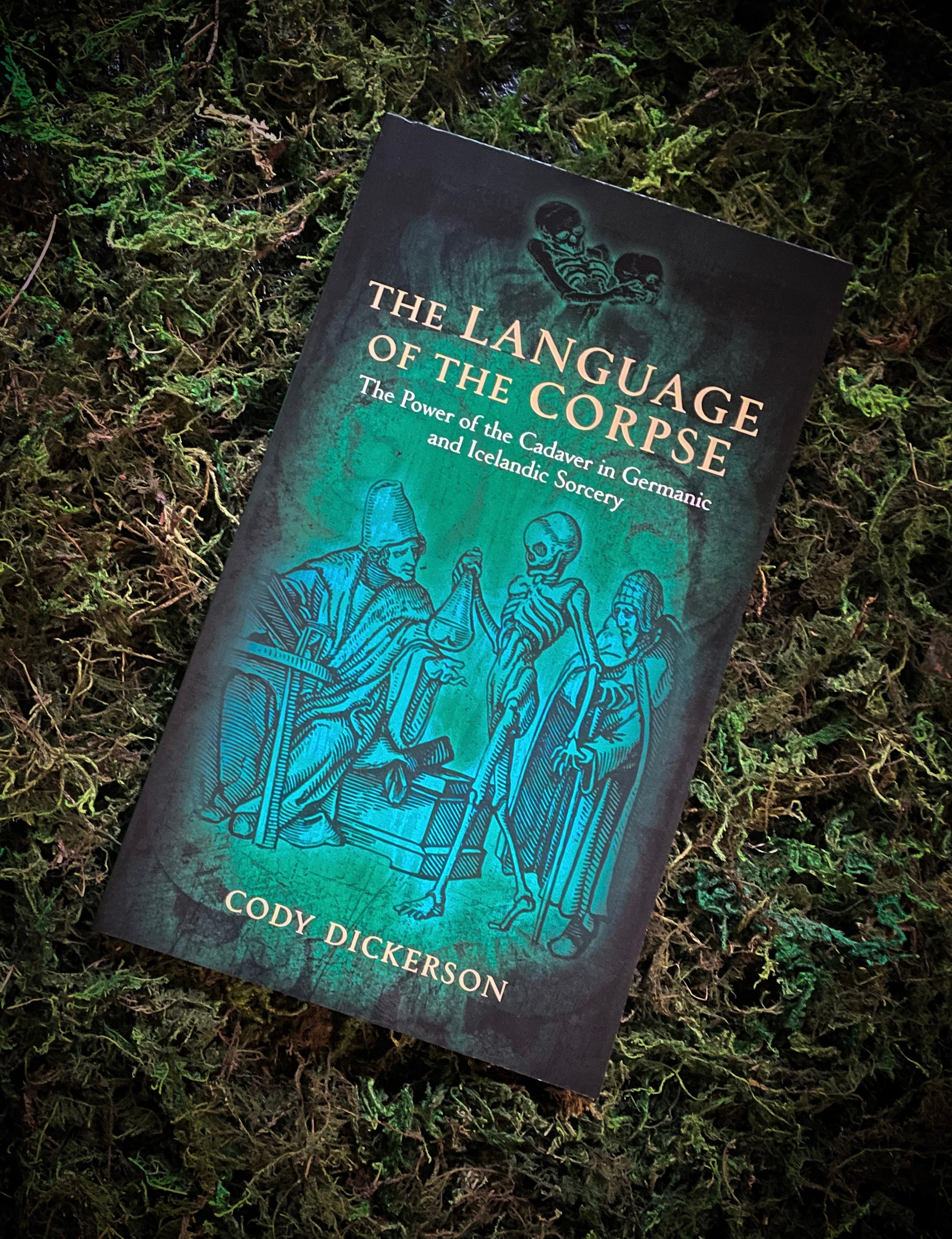 The Language of the Corpse
Author: Cody Dickerson


Among the ancient Germanic peoples there existed a highly developed stream of magical belief and practice devoted to, and stemming directly from, the dead. While it is difficult for the modern mind to understand these beliefs, it was simply an acknowledged matter of fact that a tremendous wellspring of virtuous power dwelt among the physical remains of the once living, be they man or beast, long after the spirit abandons flesh.
In this short but powerful treatise, the author has gathered together disparate elements of faith, folklore and a multitude of fascinating practices related to the dead. In examining ancient and modern materials among the Teutonic peoples of Europe, we begin to distill  an understanding of the powerful significance reserved not only for the revenants of the departed, but their physical remains as well. From the folk charming traditions of the British Isles to the extravagant ritual sacrifices held in medieval Uppsala, Sweden, the book provides the reader a glimpse into to the core strata of the power of the cadaver, and its subsequent role in the sorcerous practices witnessed amongst the European diaspora.
The Language of the Corpse
Shipping
Fast shipping
To align with our stance on sustainability, all orders are processed and shipped Tuesdays, Thursdays & Fridays in bio-degradable and environmentally sustainable packaging. We also ship with a 100% carbon neutral courier.    
Order tracking
All orders are shipped with tracking details so you can keep track of your orders progress. You will find your orders tracking information in your account settings.
Get in touch
To get in touch with the Elfhame Witches please visit our Contact page, alternatively you can email us at admin@elfhame.com.au
Refunds & Exchanges
Refunds & Exchanges
Due to the nature of our products, refunds or exchanges are only accepted if an item is damaged. A refund or exchange will only be processed if we are notified within 7 days of receiving the item and when we have received the returned damaged item. Refunds will not be issued for lost orders by mail or couriers.
Terms & Conditions
Terms & Conditions
This website is operated by Elfhame. By visiting our store, visiting our site and purchasing our products you agree to the following terms and conditions.
We serve the right to refuse and or refund orders at our discretion. You agree to not reproduce, re-sell or exploit any portion of our business (including our products and services).We reserve the right to change the price of our products and services at any time. In no case will Elfhame be liable for the misuse of our products that result in injury or damage.
All items, curio or services sold by Elfhame is sold as a curio only and is not guaranteed effectiveness.