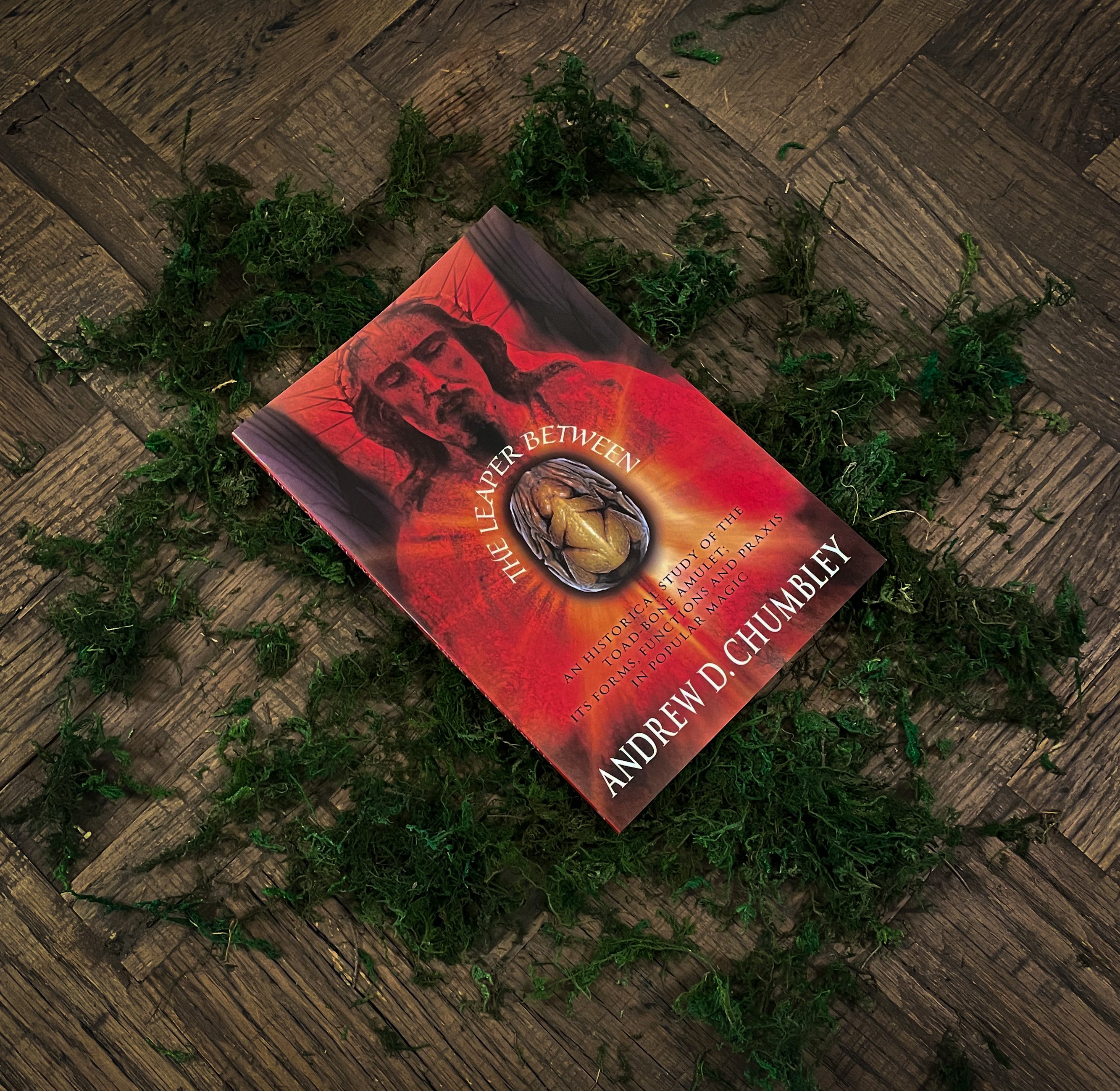 Author: Andrew Chumbley
"You ketch a hopping toad and carry that in your bosom till that's rotted right away to the back-boon. Then you take and hold that over running water at midnight till the Devil he come to you and pull you over the water… and then you be a witch and you kin dew all mander of badness to people and her power over 'em."
So spoke Tilly Baldry of Huntingtoft, an English wise-woman of the 19th century, describing the ritual of obtaining the witches amulet known as the toad-bone. Known to rural folk magicians and secret societies such as the Society of the Horseman's Word, the exacting ritual of killing a toad to obtain the bone of power has been documented in various forms and cultural milieus for two millennia, though its origin is likely far older. Focusing on extant forms in Britain and Europe, Chumbley traces the metamorphosis of the toad-bone amulet from its beginning as a talisman for controlling animals to its ultimate manifestation as a conduit of diabolic power of the 'Toad-Witch'. The first academic study of this little-known aspect of folk magic, The Leaper Between is here presented in unabridged form, newly typeset in several fine bindings worthy of its fascination. It will be of interest to students of comparative religion, magic, and folklore alike.
Shipping
Fast shipping
To align with our stance on sustainability, all orders are processed and shipped Tuesdays, Thursdays & Fridays in bio-degradable and environmentally sustainable packaging. We also ship with a 100% carbon neutral courier.    
Order tracking
All orders are shipped with tracking details so you can keep track of your orders progress. You will find your orders tracking information in your account settings.
Get in touch
To get in touch with the Elfhame Witches please visit our Contact page, alternatively you can email us at admin@elfhame.com.au
Refunds & Exchanges
Refunds & Exchanges
Due to the nature of our products, refunds or exchanges are only accepted if an item is damaged. A refund or exchange will only be processed if we are notified within 7 days of receiving the item and when we have received the returned damaged item. Refunds will not be issued for lost orders by mail or couriers.
Terms & Conditions
Terms & Conditions
This website is operated by Elfhame. By visiting our store, visiting our site and purchasing our products you agree to the following terms and conditions.
We serve the right to refuse and or refund orders at our discretion. You agree to not reproduce, re-sell or exploit any portion of our business (including our products and services).We reserve the right to change the price of our products and services at any time. In no case will Elfhame be liable for the misuse of our products that result in injury or damage.
All items, curio or services sold by Elfhame is sold as a curio only and is not guaranteed effectiveness.