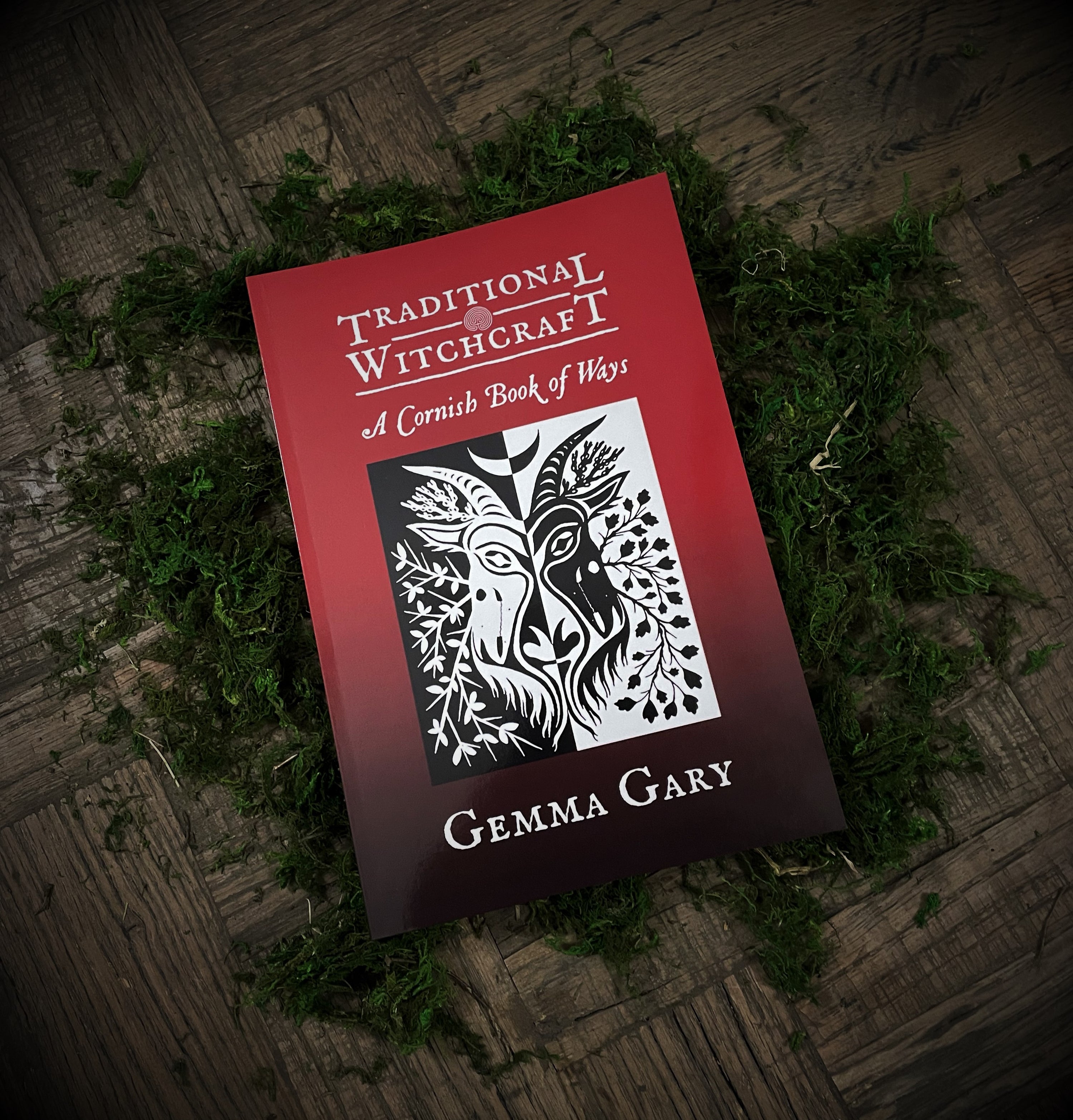 Traditional Witchcraft, A Cornish Book of Ways
Author: Gemma Gary
With November 2018 came ten years since the first publication of Gemma Gary's first book Traditional Witchcraft – A Cornish Book of Ways. This tenth anniversary revised edition begins with a new preface, giving an insight into the backstory of events which informed and inspired this popular title.
Although nestled in the Cornish landscape and its lore, the beliefs and practices described within this book are rooted also in the traditional witchcraft current and an 'Old Craft' of multiple British streams. Its magic and charms are comparable also to those found elsewhere in the British Isles and beyond, making this a book adaptable for practitioners in any land.
'Traditional Witchcraft – A Cornish Book of Ways is a 21st-century version of traditional Cornish witchcraft, of the kind recorded by Hunt, Bottrell and others. This is no neo-pagan or modern Wiccan manual, but rather a deep drawing up into modern times of some of the ancient practices of lore and magic practised by the white witches, charmers, conjurers and pellars of the Cornish villages. Their presence was still current when the 18th and 19th-century antiquarians and collectors recorded them, and, although the 20th century largely put paid to their activities, nevertheless their lore never completely disappeared, and it continues to provide inspiration for practitioners today. Gemma draws on this knowledge, not only from published material but also from the experiences and workings of 'wise women' and country witches living today.
Topics include the Cunning Path, the Dead and the Underworld (Fairy Faith), the Bucca, Places of Power in the villages and landscape, the Tools used by Cunning Folk (working versions of what can be seen, for example, in the Museum of Witchcraft & Magic), Village Cunning, substances and charms, and Rites of the Year's Round. This book gathers much material together, some of which has not been seen in print before, and thus provides a sourcebook of magical workings in Cornwall today, which will be an invaluable reference.'
Traditional Witchcraft, A Cornish Book of Ways
Shipping
Fast shipping
To align with our stance on sustainability, all orders are processed and shipped Tuesdays, Thursdays & Fridays in bio-degradable and environmentally sustainable packaging. We also ship with a 100% carbon neutral courier.    
Order tracking
All orders are shipped with tracking details so you can keep track of your orders progress. You will find your orders tracking information in your account settings.
Get in touch
To get in touch with the Elfhame Witches please visit our Contact page, alternatively you can email us at admin@elfhame.com.au
Refunds & Exchanges
Refunds & Exchanges
Due to the nature of our products, refunds or exchanges are only accepted if an item is damaged. A refund or exchange will only be processed if we are notified within 7 days of receiving the item and when we have received the returned damaged item. Refunds will not be issued for lost orders by mail or couriers.
Terms & Conditions
Terms & Conditions
This website is operated by Elfhame. By visiting our store, visiting our site and purchasing our products you agree to the following terms and conditions.
We serve the right to refuse and or refund orders at our discretion. You agree to not reproduce, re-sell or exploit any portion of our business (including our products and services).We reserve the right to change the price of our products and services at any time. In no case will Elfhame be liable for the misuse of our products that result in injury or damage.
All items, curio or services sold by Elfhame is sold as a curio only and is not guaranteed effectiveness.