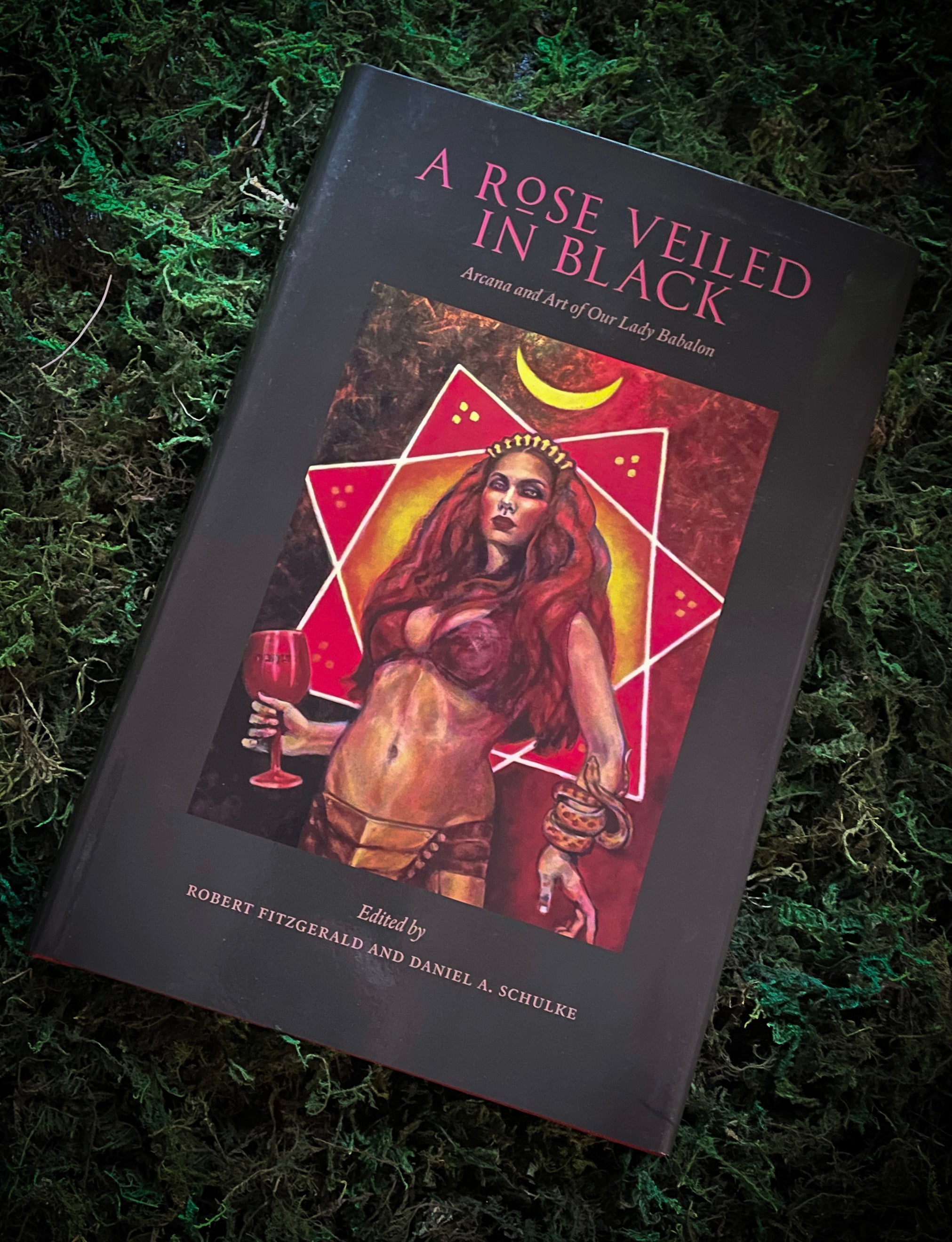 A Rose Veiled in Black, Art and Arcana of Our Lady Babalon
Edited by Robert Fitzgerald and Daniel Schulke


The Lady Babalon is one of the more enigmatic figures in the Cult of Thelema. She is a manifold deity in the sense that She is a divine harlot, an initiatrix, a creator and a destroyer. In representative form, the letters of Her name encompass an heptogrammic star; yet She lies beyond mere representation, and Her star signifies only the powers of Her train and not the station of Her immanence. She is the unsignified, a cipher conveying manifestation, and yet the veritable seal of the invisible Order of Illuminated Adepts. In Her subtle and etheric anatomy flows the life-blood of the Saints – the All-Living – and in this is Her deepest mystery, for, as it is written, in the Gospels, and in Aleister Crowley's Liber 418, 'The Blood is the Life."
A Rose Veiled in Black is the second volume in Three Hands Press' 'Western Esotericism in Context' Series which began with Hands of Apostasy. The book is a potent gathering of twelve essays and rituals of Babalon by scholars, practitioners, and allies of Thelema, dedicated wholly unto the manifest contemplation of Her Mystery. Exploring occult themes of sacrifice, magical liberation, prophecy, witchcraft, and abomination, it marks a watershed publication for the discourse on this important and previously neglected aspect of Thelemic Studies. The written works are enhanced by an offering of original and visionary art from contemporary practitioners, each exploring Her magical arcana from a ritually embodied perspective.
A Rose Veiled in Black, Art and Arcana of Our Lady Babalon
Shipping
Fast shipping
To align with our stance on sustainability, all orders are processed and shipped Tuesdays, Thursdays & Fridays in bio-degradable and environmentally sustainable packaging. We also ship with a 100% carbon neutral courier.    
Order tracking
All orders are shipped with tracking details so you can keep track of your orders progress. You will find your orders tracking information in your account settings.
Get in touch
To get in touch with the Elfhame Witches please visit our Contact page, alternatively you can email us at admin@elfhame.com.au
Refunds & Exchanges
Refunds & Exchanges
Due to the nature of our products, refunds or exchanges are only accepted if an item is damaged. A refund or exchange will only be processed if we are notified within 7 days of receiving the item and when we have received the returned damaged item. Refunds will not be issued for lost orders by mail or couriers.
Terms & Conditions
Terms & Conditions
This website is operated by Elfhame. By visiting our store, visiting our site and purchasing our products you agree to the following terms and conditions.
We serve the right to refuse and or refund orders at our discretion. You agree to not reproduce, re-sell or exploit any portion of our business (including our products and services).We reserve the right to change the price of our products and services at any time. In no case will Elfhame be liable for the misuse of our products that result in injury or damage.
All items, curio or services sold by Elfhame is sold as a curio only and is not guaranteed effectiveness.