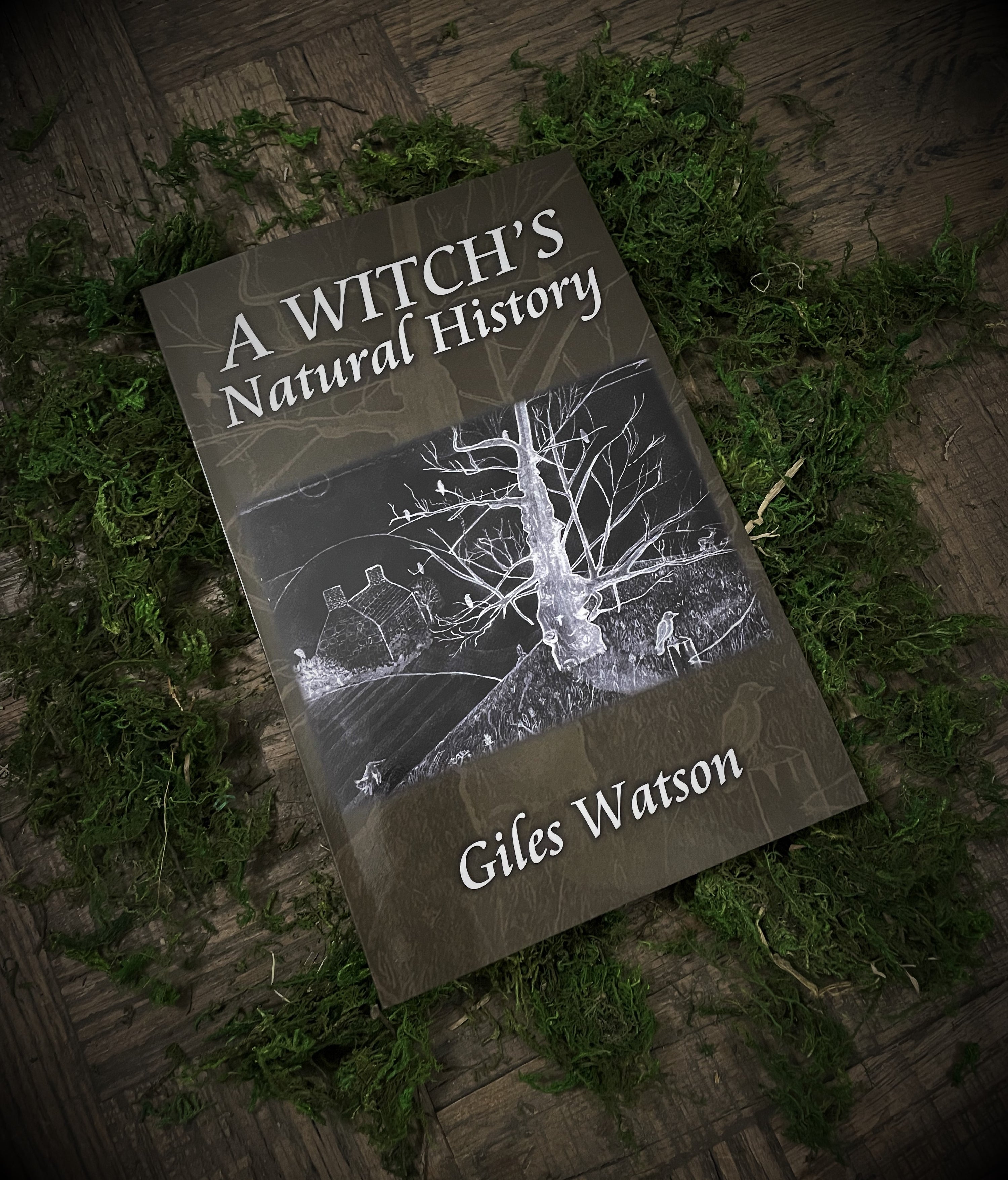 A Witches Natural History
Author: Giles Watson
Originally published as a series of essays in The Cauldron, is a meditation on the relationship between folklore and nature. The world's dogmatic religions all have their devotional texts, and biological science, too, has its own rationalistic equivalents, from Darwin's Voyage of the Beagle to Richard Dawkins's The Ancestor's Tale. Natural historians have written their works of devotion to the works of nature: a genre which has been recognisable ever since Gilbert White wrote The Natural History of Selborne. It is at work in the poems of John Clare, and the essays of W.H. Hudson, Richard Jefferies and Richard Mabey, but it also stands at the centre of the beliefs and practices of modern pagans. A Witch's Natural History is intended as a small contribution to modern witchcraft's own devotional literature of nature, drawing on scientific, folkloric and experiential sources.
Giles Watson explores the lore, legends and life-histories of a selection of animals which are commonly employed as motifs in the history of witchcraft: culturally maligned creatures such as reptiles, amphibians, crows and rats.
He also casts light on the magical significance of more commonly neglected birds, spiders, insects and snails, before turning his attention to plants, and whole ecosystems which have cultural associations with witchcraft. He combines a call for a new reverence for nature with a fascination for some of folklore's strangest representations of our dependence upon it: from the toad-bone amulet in East Anglian witchcraft to the seductive Queen Rat of the Toshers in Bermondsey. This is a book not only for those practitioners of the Craft who wish to be more informed in their response to the natural world – but also for anyone who is interested in natural history and its impact on folkloric beliefs and practices.
A Witches Natural History
Shipping
Fast shipping
To align with our stance on sustainability, all orders are processed and shipped Tuesdays, Thursdays & Fridays in bio-degradable and environmentally sustainable packaging. We also ship with a 100% carbon neutral courier.    
Order tracking
All orders are shipped with tracking details so you can keep track of your orders progress. You will find your orders tracking information in your account settings.
Get in touch
To get in touch with the Elfhame Witches please visit our Contact page, alternatively you can email us at admin@elfhame.com.au
Refunds & Exchanges
Refunds & Exchanges
Due to the nature of our products, refunds or exchanges are only accepted if an item is damaged. A refund or exchange will only be processed if we are notified within 7 days of receiving the item and when we have received the returned damaged item. Refunds will not be issued for lost orders by mail or couriers.
Terms & Conditions
Terms & Conditions
This website is operated by Elfhame. By visiting our store, visiting our site and purchasing our products you agree to the following terms and conditions.
We serve the right to refuse and or refund orders at our discretion. You agree to not reproduce, re-sell or exploit any portion of our business (including our products and services).We reserve the right to change the price of our products and services at any time. In no case will Elfhame be liable for the misuse of our products that result in injury or damage.
All items, curio or services sold by Elfhame is sold as a curio only and is not guaranteed effectiveness.