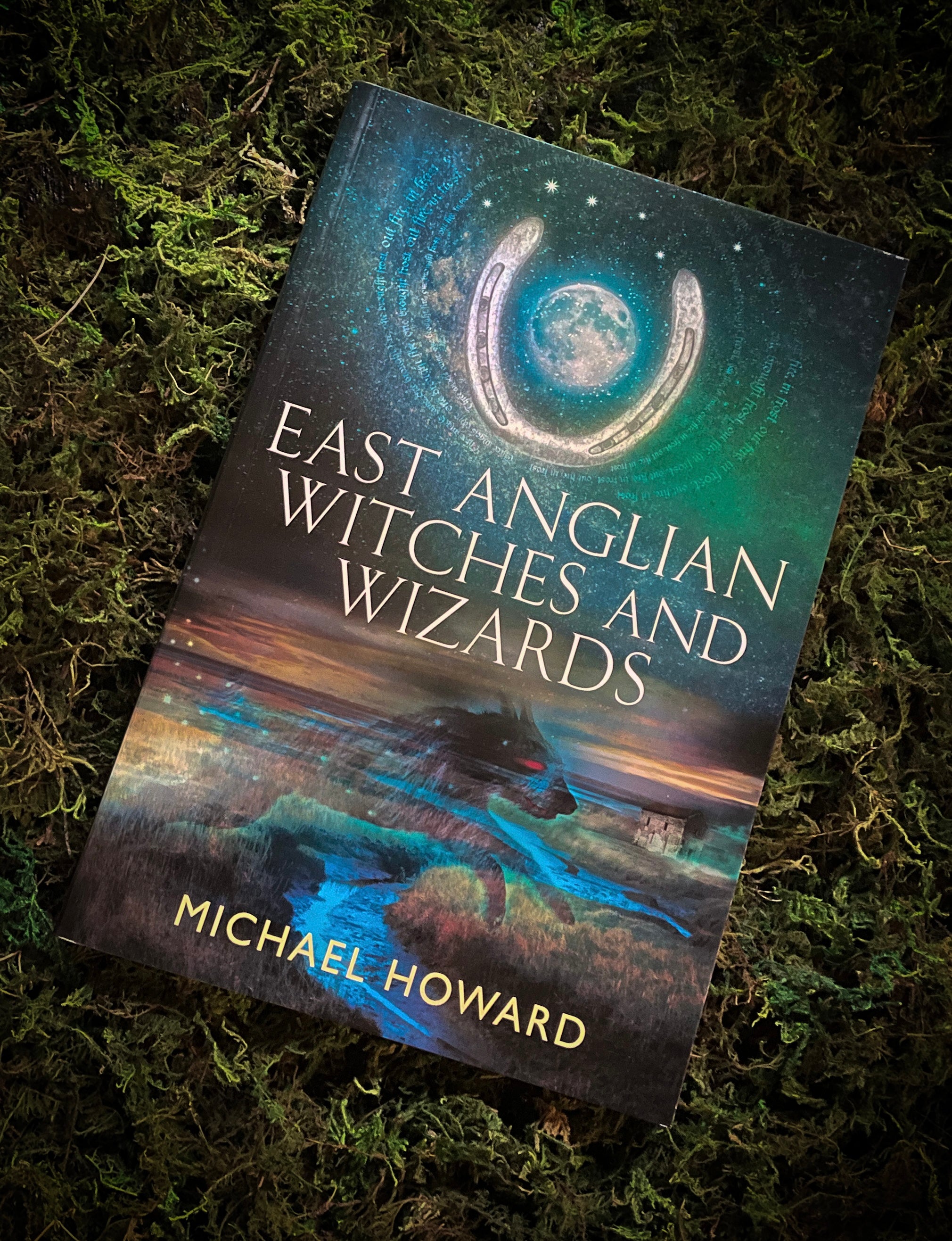 East Anglian Witches & Wizards
Author: Michael Howard


In 1643 several men and women appeared in court at Chelmsford, Essex, charged with practicing the curious combination of 'conjuration, magic and lechery'. The chief witness was a servant woman, Martha Hurrell, who claimed that she and a group of other people met regularly in various country houses to practice magic, together with a 'conjuror' or summoner of spirits described as a man 'in black apparel with brown hair and a blackish beard.' She was carried into the hall where the conjuror and other men 'had the use of her body.' The man in black 'took up their coats' and the women lay on top of him, saying afterwards that 'he did them some good'. Hurrell also described how the group conjured up spirits by drawing a circle on the floor in their master's hall and burning three candles, after which the group feasted and danced to the music of a fiddler. These rites, according to Hurrell, were 'all of high and low order mingled together.'
As much as it was a place of witchcraft, East Anglia also produced some of the more outspoken writers and authorities on 'The Damned Art'. The sixteenth century Essex lawyer William Smith described the figure of the witch as 'being deluded by a league made with the Devil through his persuasion and juggling and who thinkest she can design what manner of things so ever…' This 'manner of things' according to Smith included the raising of storms to destroy crops and fruit trees and to be carried to another place by her familiar spirit who took animal form as a pig, calf or goat. Once at this 'another place' Smith said the witch spent the night hours 'playing, sporting, banqueting, dalliance and diverse other devilish lusts and lewd disports…' This was a reference to the so-called Witches Sabbath, a ritual more usually found in European accounts of witchcraft.
In his fourth book in the Witchcraft of the British Isles series, Michael Howard examines the Craft of East Anglia, one of the richest areas of historical witchcraft and folk magic in England. From the private witch of William the Conqueror to the cunning men and women of the marshes and fens, to the Toad-witches and the appalling deeds of the witch-finders, the book is a trove of historical information on the actual folk magical practices of East Anglia.  Also examined are the spirits of locality, such as Old Shuck, the spectral black dog known to haunt country lanes, and a special chapter on Imps and Familiars.
East Anglian Witches & Wizards
Shipping
Fast shipping
To align with our stance on sustainability, all orders are processed and shipped Tuesdays, Thursdays & Fridays in bio-degradable and environmentally sustainable packaging. We also ship with a 100% carbon neutral courier.    
Order tracking
All orders are shipped with tracking details so you can keep track of your orders progress. You will find your orders tracking information in your account settings.
Get in touch
To get in touch with the Elfhame Witches please visit our Contact page, alternatively you can email us at admin@elfhame.com.au
Refunds & Exchanges
Refunds & Exchanges
Due to the nature of our products, refunds or exchanges are only accepted if an item is damaged. A refund or exchange will only be processed if we are notified within 7 days of receiving the item and when we have received the returned damaged item. Refunds will not be issued for lost orders by mail or couriers.
Terms & Conditions
Terms & Conditions
This website is operated by Elfhame. By visiting our store, visiting our site and purchasing our products you agree to the following terms and conditions.
We serve the right to refuse and or refund orders at our discretion. You agree to not reproduce, re-sell or exploit any portion of our business (including our products and services).We reserve the right to change the price of our products and services at any time. In no case will Elfhame be liable for the misuse of our products that result in injury or damage.
All items, curio or services sold by Elfhame is sold as a curio only and is not guaranteed effectiveness.