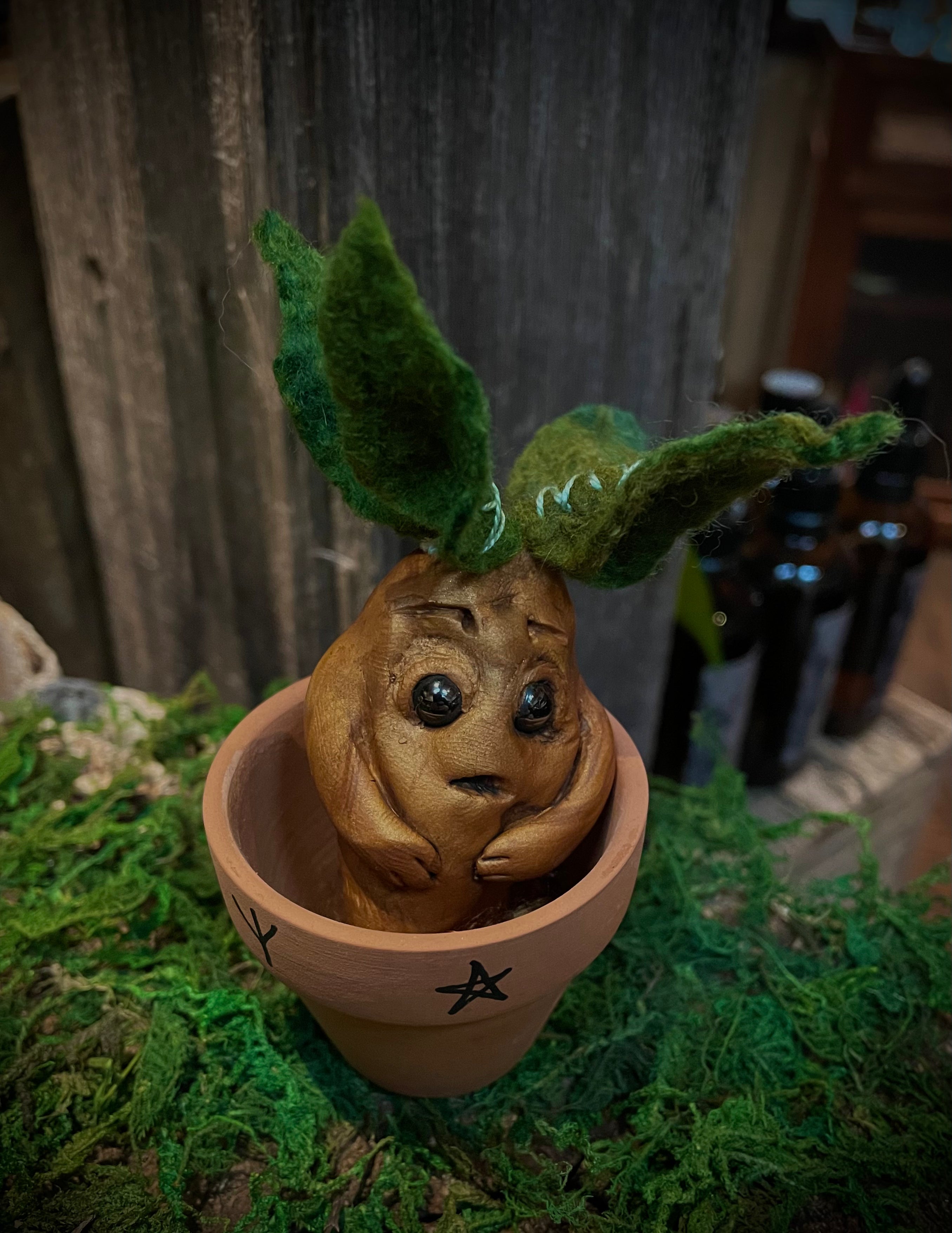 Mandrake - 
Mighty Witch Scott Cunningham wrote in his popular book 'Encyclopaedia of Magical Herbs' that "A whole mandrake root placed on the mantel in the home, will give the house protection, fertility and prosperity. Where there is mandrake, demons cannot reside." 
According to J. C. Cooper and their 'Illustrated Encyclopedia of Traditional Symbols' - "Mandrake is a symbol of the Great Mother, giver of life; the plant of enchantment, emblem of Circe. In Witchcraft it is the power of magic."
This handmade, one of a kind Mandrake inspired sculpture has been made with a heart full of witchiness and faerie squee and features hematite eyes for extra oomph and its very own terracotta pot to live in, marked with the protective symbols of the Pentacle and Algiz and blessed under the Moon to aid in Protecting Your Home.
Handmade with love by Faerie
Shipping
Fast shipping
To align with our stance on sustainability, all orders are processed and shipped Tuesdays, Thursdays & Fridays in bio-degradable and environmentally sustainable packaging. We also ship with a 100% carbon neutral courier.    
Order tracking
All orders are shipped with tracking details so you can keep track of your orders progress. You will find your orders tracking information in your account settings.
Get in touch
To get in touch with the Elfhame Witches please visit our Contact page, alternatively you can email us at admin@elfhame.com.au
Refunds & Exchanges
Refunds & Exchanges
Due to the nature of our products, refunds or exchanges are only accepted if an item is damaged. A refund or exchange will only be processed if we are notified within 7 days of receiving the item and when we have received the returned damaged item. Refunds will not be issued for lost orders by mail or couriers.
Terms & Conditions
Terms & Conditions
This website is operated by Elfhame. By visiting our store, visiting our site and purchasing our products you agree to the following terms and conditions.
We serve the right to refuse and or refund orders at our discretion. You agree to not reproduce, re-sell or exploit any portion of our business (including our products and services).We reserve the right to change the price of our products and services at any time. In no case will Elfhame be liable for the misuse of our products that result in injury or damage.
All items, curio or services sold by Elfhame is sold as a curio only and is not guaranteed effectiveness.