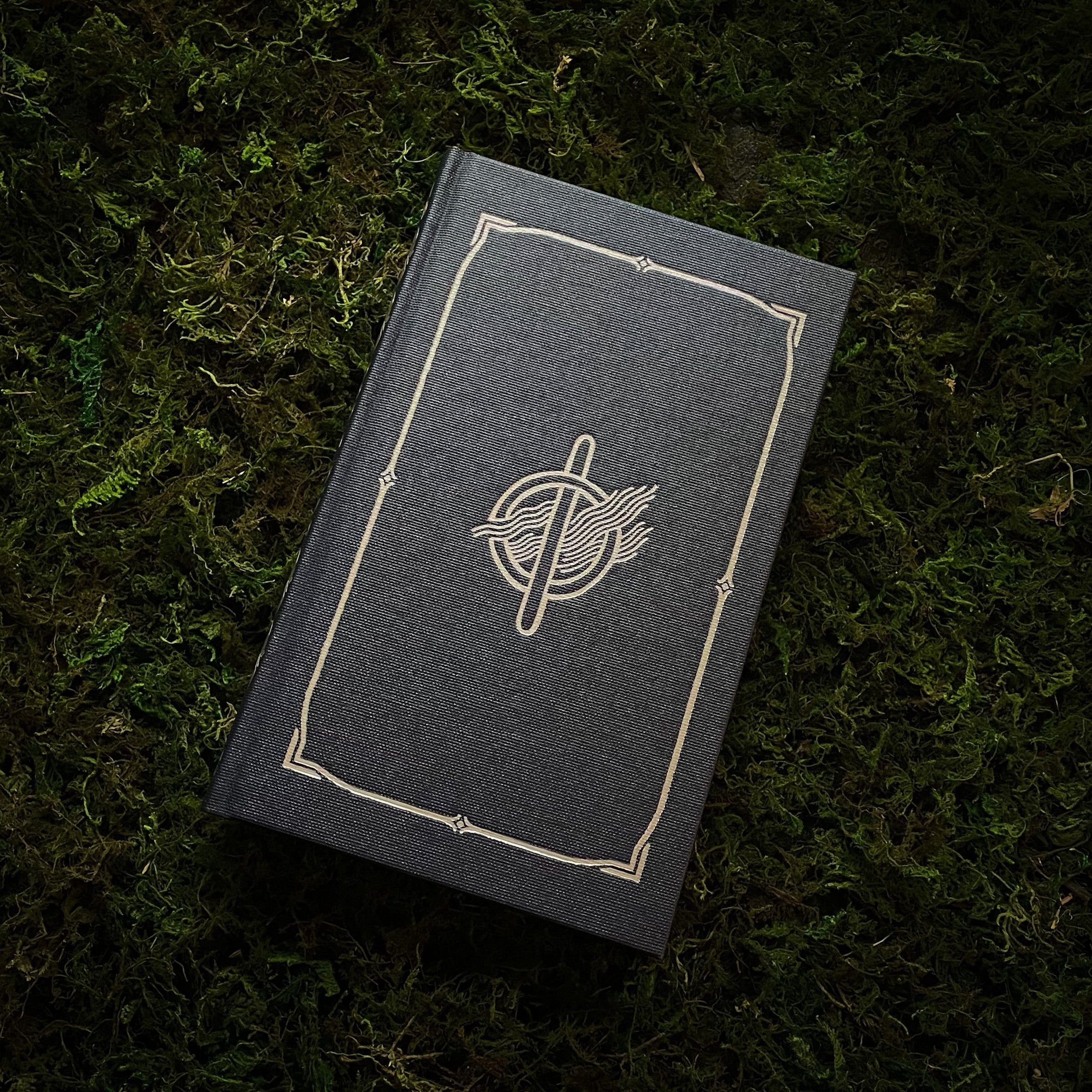 Rod & Ring An Initiation Into A Mesopotamian Mystery Tradition (Hardcover)
Author: Samuel David
"In Mesopotamian art, the rod and ring, like the horned helm or crown, are indicators of the depicted being's divine status. The most famous depiction being that of Shamash, the solar god of justice holding both divine symbols of power before Hammurabi the king on the Code of Hammurabi stele.
 
The depiction of a deity presenting these items of power to a human indicates the conferring of some divine measure, be it benediction or authority as a divinely-ordained ruler.
 
The symbols themselves are dated from the Sumerian Renaissance to the Neo-Assyrian periods. Some researchers have suggested that these tools represent a yardstick and a measuring rope – items that would be used to survey a kingdom. The stela of Ur-Namma however, bears an elaborate relief which depicts the ring as a wound cord; it has also been described as a chaplet of beads.
 
Within the context of this book and those which will follow, the rod and ring serve as the symbols of the gods and the realms in which they inhabit and rule.
 
The ring signifies the circumference of Earth and all that is contained upon and within, from the highest mountains, the depths of the oceans, and the chasms of the Underworld.
 
The rod signifies the divine power of the gods that is made manifest and connects the kingdoms of Heaven, Earth, and the Underworld.
 
By undergoing initiation, we can move closer to obtaining a measure of the divine providence and authority granted by the gods to perform rituals, know them in full, and experience the power they may bestow upon those who serve them as magicians, exorcists, and members of the priesthood."
~SAMUEL DAVID
​
History tells us of the mystery traditions of Isis, Dionysius, and Mithras – but what of the mysteries of Inanna, Enki, and Dumuzid? Author Samuel David's Order of the Rod & Ring seeks to fill those lacunae with a spiritual journey that combines traditional Mesopotamian praxis with a contemporary paradigm.
 
Immerse yourself in this mystery tradition as you undertake a mythopoetic journey informed by historical, religious, and cultic practices, as well as mythology, and research from experts in the field of Assyriology. 
 
Prepare yourself to approach the shrine of the gods as their supplicant; take up the Divine Measures bestowed upon humanity as their servant, and brave the dark as you descend into the depths of the Underworld; be reborn as the temple steward and pass through the Heavenly gates to present yourself as one worthy to be entrusted with their holy regalia: the Rod and the Ring.
Rod & Ring An Initiation Into A Mesopotamian Mystery Tradition (Hardcover)
Shipping
Fast shipping
To align with our stance on sustainability, all orders are processed and shipped Tuesdays, Thursdays & Fridays in bio-degradable and environmentally sustainable packaging. We also ship with a 100% carbon neutral courier.    
Order tracking
All orders are shipped with tracking details so you can keep track of your orders progress. You will find your orders tracking information in your account settings.
Get in touch
To get in touch with the Elfhame Witches please visit our Contact page, alternatively you can email us at admin@elfhame.com.au
Refunds & Exchanges
Refunds & Exchanges
Due to the nature of our products, refunds or exchanges are only accepted if an item is damaged. A refund or exchange will only be processed if we are notified within 7 days of receiving the item and when we have received the returned damaged item. Refunds will not be issued for lost orders by mail or couriers.
Terms & Conditions
Terms & Conditions
This website is operated by Elfhame. By visiting our store, visiting our site and purchasing our products you agree to the following terms and conditions.
We serve the right to refuse and or refund orders at our discretion. You agree to not reproduce, re-sell or exploit any portion of our business (including our products and services).We reserve the right to change the price of our products and services at any time. In no case will Elfhame be liable for the misuse of our products that result in injury or damage.
All items, curio or services sold by Elfhame is sold as a curio only and is not guaranteed effectiveness.