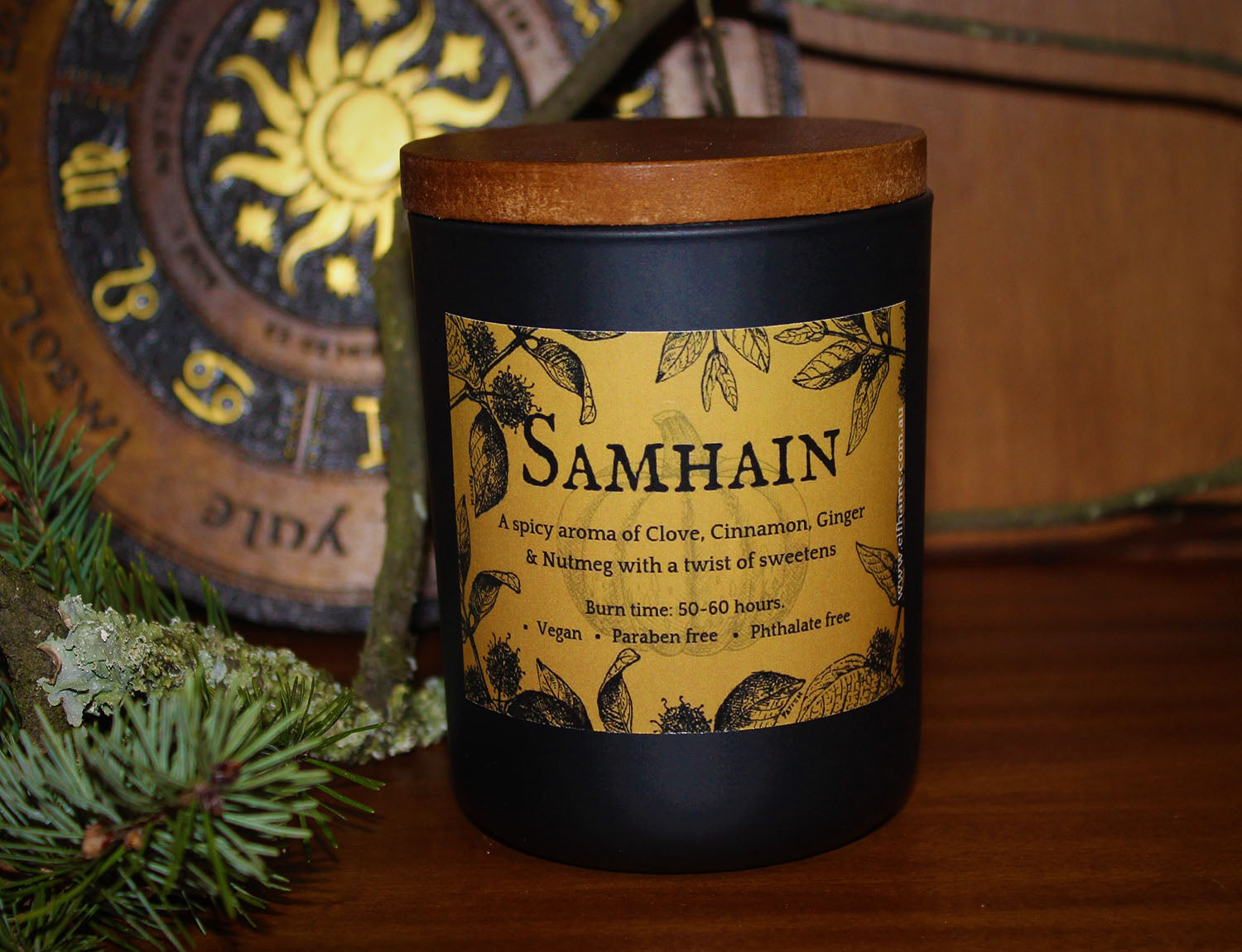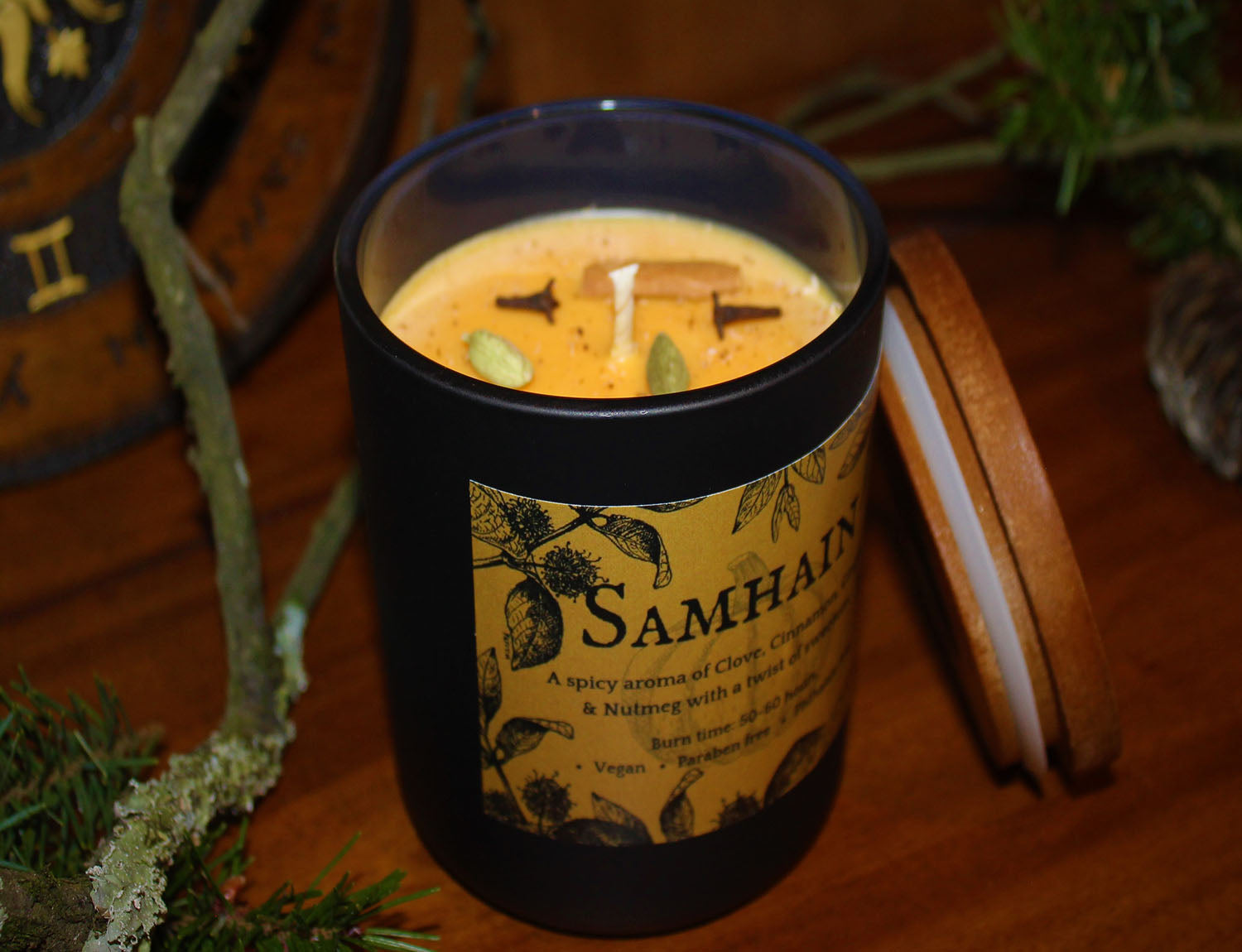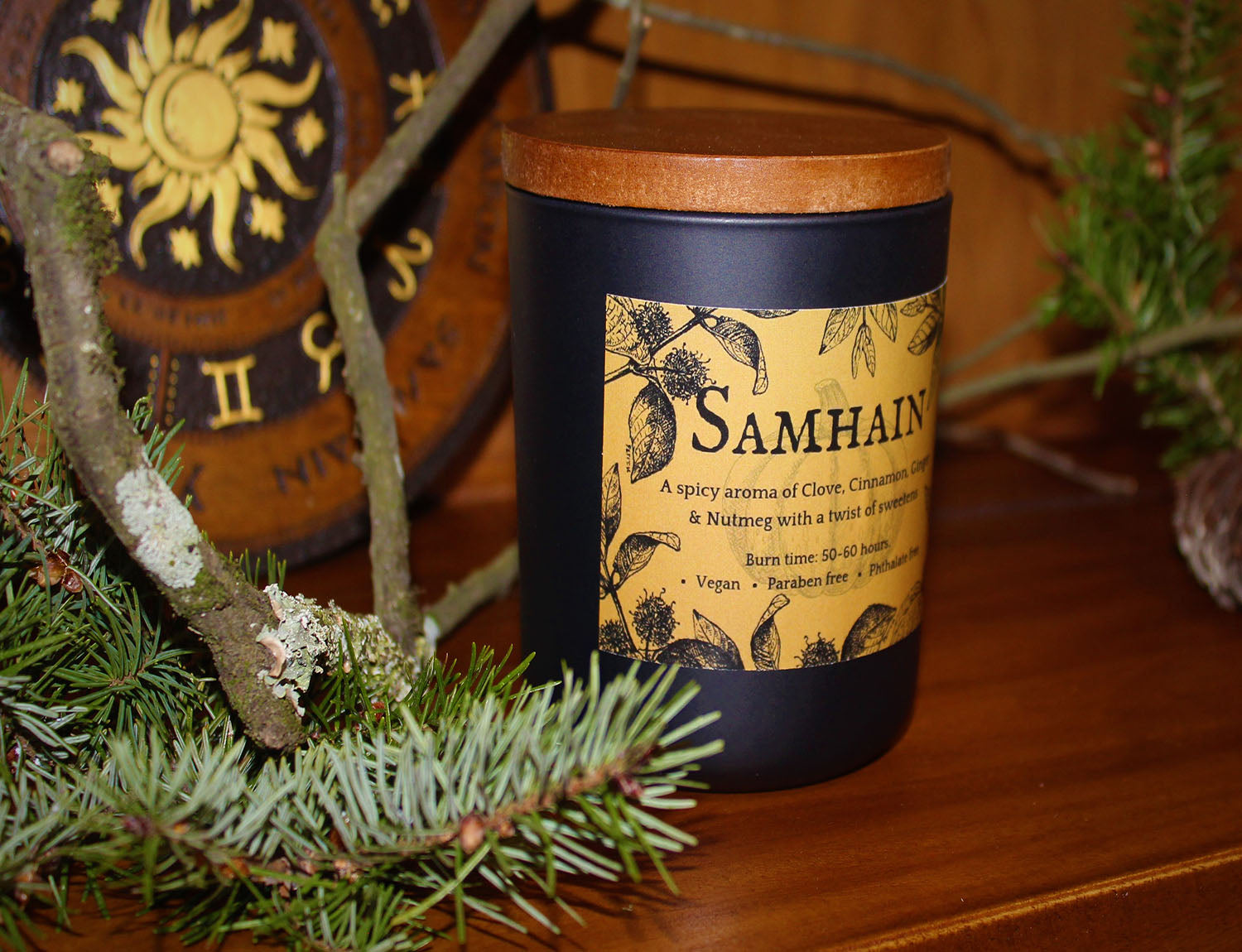 Samhain, Ritual Scent Candle
The wind howls a little louder tonight, a little colder. There is hunger in the air. You walk over to a box and open it. It is full of old photos, of rings and memories of your dead. Beloved, mighty and ancestral. You pull out some pieces and stories fill the room. A shot of rum for her, a sip of tea for them. A slice of cake for him, he always had a sweet tooth. You start to feel heavier, or perhaps lighter, and your bones start to rattle inside. You call them up, one by one and make room for them. You allow him to eat the cake and feel the sugar rush through you. You allow them to taste the tannins of the tea on your tongue, and allow her to feel the burn of rum down the throat once more. Burn this candle on Samhain, or in moments when you want to thin the veil and reach out to the dead.
Aroma: Clove, Cinnamon, Ginger, nutmeg with a twist of sweetness. 
With a burning time of 40-50 hours, Vegan-friendly & Paraben & Phthalate free, our Ritual Scent Candles have been poured with quality soy wax & natural dye. Each aroma has been ritually blended by Elfhame from quality essential oils with only one synthetic oil being used (Musk). 
Samhain, Ritual Scent Candle
Shipping
Fast shipping
To align with our stance on sustainability, all orders are processed and shipped Tuesdays, Thursdays & Fridays in bio-degradable and environmentally sustainable packaging. We also ship with a 100% carbon neutral courier.    
Order tracking
All orders are shipped with tracking details so you can keep track of your orders progress. You will find your orders tracking information in your account settings.
Get in touch
To get in touch with the Elfhame Witches please visit our Contact page, alternatively you can email us at admin@elfhame.com.au
Refunds & Exchanges
Refunds & Exchanges
Due to the nature of our products, refunds or exchanges are only accepted if an item is damaged. A refund or exchange will only be processed if we are notified within 7 days of receiving the item and when we have received the returned damaged item. Refunds will not be issued for lost orders by mail or couriers.
Terms & Conditions
Terms & Conditions
This website is operated by Elfhame. By visiting our store, visiting our site and purchasing our products you agree to the following terms and conditions.
We serve the right to refuse and or refund orders at our discretion. You agree to not reproduce, re-sell or exploit any portion of our business (including our products and services).We reserve the right to change the price of our products and services at any time. In no case will Elfhame be liable for the misuse of our products that result in injury or damage.
All items, curio or services sold by Elfhame is sold as a curio only and is not guaranteed effectiveness.