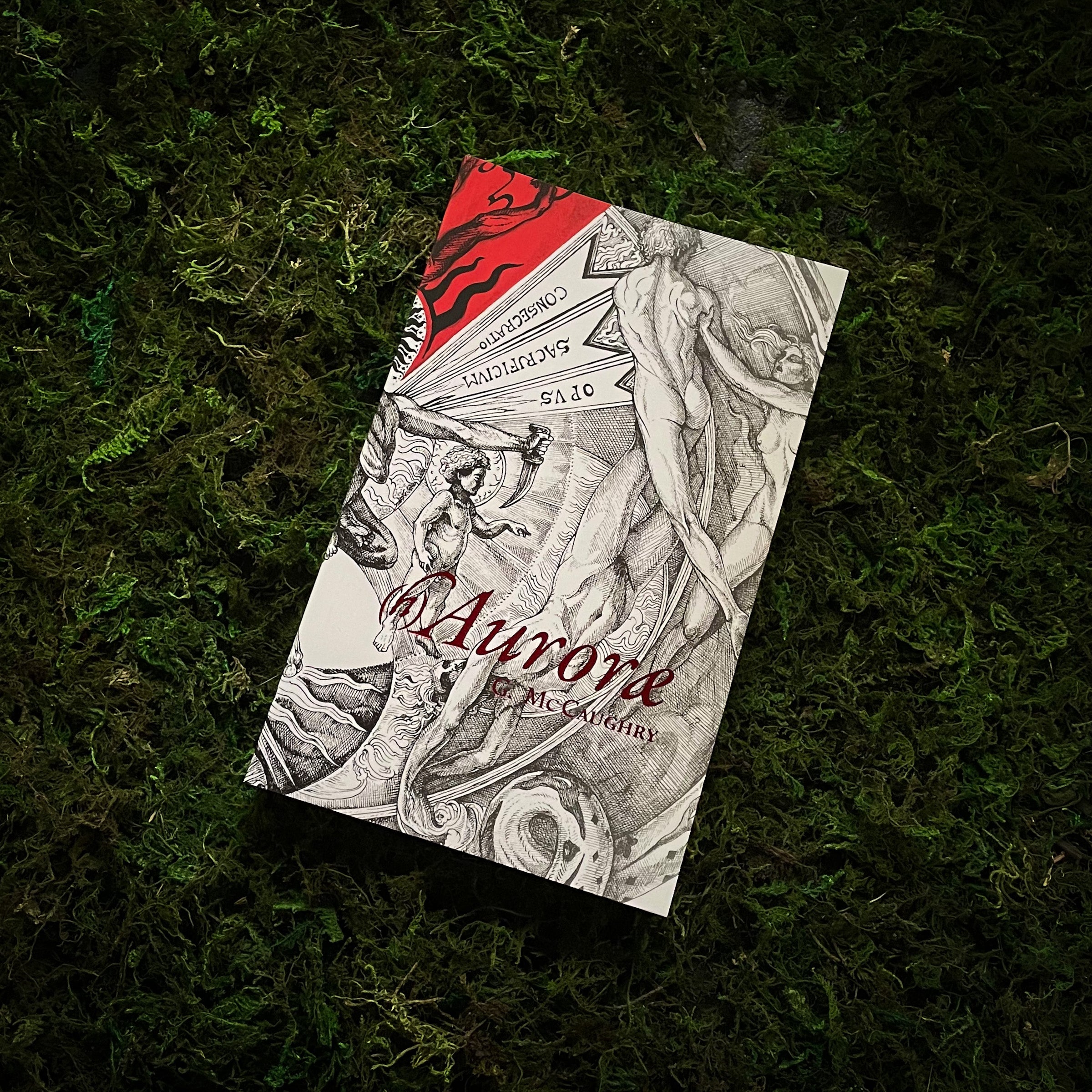 Author: Gabriel McCaughry
• By Gabriel McCaughry (Editor-in-chief of Anathema Publishing Ltd.)
• Preface (for the Paperback reissue) by Denis Poisson (Foolish Fish YouTube channel.)
• Afterword by Shani Oates (Maid of the Clan of Tubal Cain, and author of Tubelo's Green Fire, Crafting the Arte of Tradition, The Devil's Supper, The Hanged God, Wolfs-Head, etc.)
• Thoroughly illumined by the talented artist José Gabriel Alegría Sabogal (Handbook of Sacred Anatomy, A Second Nature, and the forthcoming IAO.)
(h)Auroræ is, functions as, an occult text; it is technically not a book 'about' the occult. The distinction is important here: the whole concept, presentation, and perennial philosophy underlying the book aim at provoking a mystical experience and stimulating the Divine Inspiration of the reader, so that they, in turn, become Inspiration.
This manuscript is a mystifying, albeit utterly profound journey. Part ontological synthesis, philosophical rambling, magickal diary, visual grimoire, mystical poetry, revelatory/individuation process, and alchemical vessel of expression, the book exists under the umbrella of what the author refers to as Neoteric Heterodoxy. First and foremost, however, (h)Auroræ exists as an act of eternal remembrance.
"This alchemical treatise walks us through a startling expression of emotive gnosis… (h)Auroræ seeks beyond and above the all-too-human condition in order to understand it, and advance it vis-à-vis a sensual Sophianic psychology, witnessed in cogitation. Mind in tandem with vision, incorporates a veiled process of subtle Jungian analysis leading to a Grail quest, of intent to remove the blindfold from the Holy Fool…  A work of pilgrimage, conjunction and apotheosis, it directs the reader through pause, anticipation and intake. Sometimes rapturous, sometimes ponderous."
(~Shani Oates, Afterword, (h)Auroræ)
G. McCaughry writes:
 
"This Opus Alchymicum is presented in a certain "light" and, at its core, (h)Auroræ is centred on the sempiternal theosophical discourse which sparks anew the Flame of Old within the heart of the predisposed reader, struggling, yet inclined, to separate the subtil from the dross so that we may uncover our inner philosopher's stone or perfected being.
 
"'Tis a work of Agapae, in the purest sense of the words
 
"This manuscript, far from being a modern-day grimoire by any means, is, primarily, a mystical handbook. A useful resource to have by one's side upon undertaking an initiatory odyssey on the Path of Exile & Exalt – regardless of which favoured system or tradition the practitioner employs." 
 
(h)Auroræ is Gabriel McCaughry's first published manuscript – a tome which correlates directly with Anathema Publishing's mandate, along with his unique views and methodologies on alchemical book-making. This is very much a continuation in the spirit of his previous contributions to the PILLARS occult periodical (and elsewhere), but within (h)Auroræ, these concepts are fully developed and actualized.
"[(h)Auroræ is] a supreme work of Beauty, in every sense of that aesthetic. A sublime work of Arte, in every sense of that metaphysic. In short, a meditational treatise of transformative alchemy of – and for – the Soul."
(~Shani Oates)
Shipping
Fast shipping
To align with our stance on sustainability, all orders are processed and shipped Tuesdays, Thursdays & Fridays in bio-degradable and environmentally sustainable packaging. We also ship with a 100% carbon neutral courier.    
Order tracking
All orders are shipped with tracking details so you can keep track of your orders progress. You will find your orders tracking information in your account settings.
Get in touch
To get in touch with the Elfhame Witches please visit our Contact page, alternatively you can email us at admin@elfhame.com.au
Refunds & Exchanges
Refunds & Exchanges
Due to the nature of our products, refunds or exchanges are only accepted if an item is damaged. A refund or exchange will only be processed if we are notified within 7 days of receiving the item and when we have received the returned damaged item. Refunds will not be issued for lost orders by mail or couriers.
Terms & Conditions
Terms & Conditions
This website is operated by Elfhame. By visiting our store, visiting our site and purchasing our products you agree to the following terms and conditions.
We serve the right to refuse and or refund orders at our discretion. You agree to not reproduce, re-sell or exploit any portion of our business (including our products and services).We reserve the right to change the price of our products and services at any time. In no case will Elfhame be liable for the misuse of our products that result in injury or damage.
All items, curio or services sold by Elfhame is sold as a curio only and is not guaranteed effectiveness.